Investigation says a nurse dismissed in 2015 was "clearly treated unfairly" by Imperial College Healthcare Trust
Nurse took his own life while the balance of his mind was disturbed following lengthy dismissal process
Independent investigation finds delay was "excessive" and its justification by trust staff was "weak"
An independent investigation has criticised an NHS trust and its staff for "unfairly" treating a senior nurse who went on to be dismissed before killing himself by setting himself on fire in 2016.
An independent investigation, ordered by former health minister Philip Dunne, criticised staff members at Imperial College Healthcare Trust for their role in nurse Amin Abdullah's death.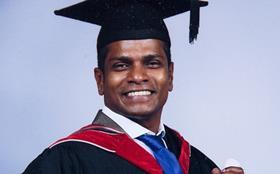 The investigation found "no particular concerns" with the trust's disciplinary policies. However, it was highly critical of the behaviour and actions of individuals involved in the process against Mr Abdullah, a senior nurse at Charing Cross Hospital.
Mr Abdullah was suspended in September 2015 and dismissed by the trust in December that year. He took his own life two months later.
An inquest last year heard delays in the disciplinary process caused him anxiety and investigators concluded in their report published today that "it is clear from the evidence that nurse Abdullah was treated unfairly."
One senior staff member, responsible for gathering evidence for the disciplinary hearing, came in for particular criticism.
She "repeatedly raised questions about Nurse Abdullah's honesty on the basis of little or no evidence. She also failed to disclose evidence which was critical of her but which tended to exculpate nurse Abdullah."
The investigators called on Imperial to consider "her suitability for her role as a senior member of staff".
They also called an internal report, carried out by the trust following Mr Abdullah's death, a "whitewash". It was sent to the trust board and "served to reassure the trust that it had handled the case with due care and attention. It failed to tell the trust what it needed to know."
The investigators, from consultancy Verita, said this report was "unacceptable".
Because the trust relied on that report, the investigators said its answers to Mr Abdullah's family were based on a "false premise" which led to claims of a cover up.
Trust chief executive Tim Orchard said: "This has been a thorough and fair investigation and we accept all of its findings and recommendations. Above all else, it is now clear that we let Amin down and, for that, I am truly sorry."
The trust said it is overhauling how it manages its disciplinary processes and outlined interim measures such as more support to staff during disciplinary processes and more training for staff carrying out investigations.
Mr Abdullah's partner Terry Skitmore said he appreciated and welcomed the apology from the trust. He said he hoped NHS leaders "will now take action to prevent more tragedies such as that of Amin happening in the future."
He added: "I hope they will also take action so that when concerns are raised people listen and take heed."
Imperial began the disciplinary action against Mr Abdullah in September 2015 because he was one of 18 people to sign a petition supporting a nurse colleague, nurse X, who was also subject to a disciplinary process. Despite those 18 signatories, he was the only member of staff to be disciplined.
Despite being interviewed in the autumn, a hearing was not held until December because the trust chose to link his case to that of nurse X.
The independent investigation found this was unnecessary but said it was an understandable decision.
The investigators said there were "excessive" delays in handling the case and attempts to justify this by the trust were "weak".
When a hearing was held, the investigators found the chair and a human resources manager "should have been more thorough about evaluating the evidence".
The report did stress the evidence they were given by the investigating officer was "poor".