An acute hospital trust chief executive is leaving her post to become chief operating officer of a major health research institute.
Sam Barrell will leave Musgrove Park Hospital, run by Taunton and Somerset Foundation Trust, in the autumn to become chief operating officer of the Francis Crick Institute, a new biomedical research centre focused on translating research into healthcare prevention, diagnosis and treatment.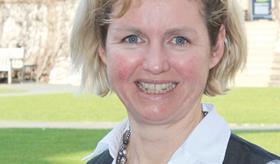 She is a former GP was previously the chief clinical officer of Torbay and South Devon Clinical Commissioning Group. Dr Barrell joined Taunton and Somerset in February 2015.
No decision has yet been made about a replacement chief executive.
Trust chair Colin Drummond said: "i would like to thank Sam most warmly for the tremendous work she has done on behalf of our hospital.
"I am very sad that she is leaving us but delighted for her to be taking up such a prestigious role which reflects great credit on Musgrove Park Hospital and the work she has done here.
"Sam will leave us very well positioned for the future."
The Francis Crick Institute is a major biomedical research centre in London, which opened in 2016 and is a partnership between Cancer Research UK, Imperial College London, King's College London, the Medical Research Council, University College London and the Wellcome Trust.
Dr Barrell said: "I have loved being at Musgrove because it has the most outstanding and caring staff I have ever worked with.
"Teams right across the hospital are dedicated and committed, constantly coming up with improvements and innovations that make care better for our patients.
"It will be terribly hard to leave it, but the hospital has an exceptional senior leadership team and I know it will go from strength to strength."
While Taunton and Somerset FT is in a relatively good financial position, the Somerset health economy overall has a substantial problem. It was forecast to be £16m short of its net control totals at the end of 2016-17, or 1.8 per cent of the total. The other main acute provider in the area is the very small Yeovil District Hospital Foundation Trust – with a turnover of around £130m – and questions have been asked about how the two trusts work together.
Source
Dr Barrell's departure source: Trust statement; Background on the health economy: HSJ research.