A scheme in Northamptonshire using Skype to buoy support for mental health patients has revealed the untapped potential of the free technology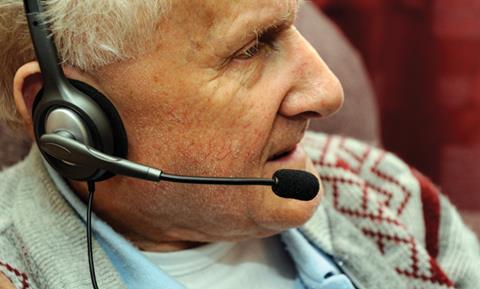 NOT FOR REUSE
The county-wide ADHD and Asperger's team of Northamptonshire Healthcare Foundation Trust offers highly specialised diagnostic assessments and interventions for adults with Asperger's syndrome, attention deficit-hyperactivity disorder and Tourette's syndrome.
Initially set up in 2003 to focus on the transition of young people from child and adolescent mental health and paediatric services to adult services, it soon became evident that there was a significant need to offer diagnostic and treatment/support services to adults of all ages.
'The use of Skype is not aimed at replacing clinic or home-based face-to-face services but to extend the number of sessions'
The initial funding enabled the establishment of a small team of five clinicians led by consultant clinical psychologist Kobus van Rensburg but the unprecedented demand for the service over the years has necessitated the expansion of the service that now has clinical psychologists, occupational therapists, clinical nurse specialists and support workers.
The team receives referrals and works jointly with a vast range of services and agencies, including specialist forensic, learning disability, mental health (including inpatient), accommodation and commissioning, social care and health, employment and further education services, as well as with organisations in the voluntary sector.
Innovative solutions
Over the years there has been a significant increase in referral rates to the team, with an average of more than 40 a month, compared with the average of 11 referrals a month in 2004. Most people referred to the service are offered a screening appointment, and if appropriate are then offered a range of treatment or support options.
Resources severely restrict the number of follow-up sessions that could be offered post-diagnosis and typically those with ADHD are offered four follow-up consultations and those with Asperger's syndrome six to eight follow-up consultations.
It has been important to look for innovative ways to reduce waiting times for appointments, while at the same time ensuring that clients continue to receive the same high level of care and a sufficient number of consultations.
Out of time
As a county-wide service covering almost 1,000 square miles of Northamptonshire, maintaining the required levels of contact with clients was proving to be a challenge. A one hour appointment could take up to three hours out of a day with travel, and the ADHD and Asperger's team needed to introduce a much more time-efficient solution in certain instances that still put the client first and did not adversely affect client outcomes.
Dr Van Rensburg introduced the idea of Skype for some client appointments, which was initially met with some resistance from some of the team. This was mainly due to scepticism about removing one-to-one client contact and not everyone being keen to embrace the technology.
In addition, the use of this Skype model is not common practice within the NHS, making it very difficult to benchmark the service as it was being developed.
Technical and confidentiality issues also needed to be addressed. This included local servers not being able to cope with the bandwidth required; buying hardware (webcams) and developing guidelines for clients; software training for staff; updating privacy settings and addressing issues relating to confidentiality; and setting boundaries regarding appropriate use, for example, to use it only at pre-arranged times.
Helpful alternative
The team has introduced Skype consultations for specific clients with a target of about 10 per cent of the total caseload of the team's clients. In many instances, the use of Skype is not aimed at replacing clinic or home-based face-to-face services but rather to provide an opportunity to extend the number of sessions offered or to offer more frequent sessions beyond those resources usually allow.
However, for a number of service-users video-consultations can provide a helpful alternative to attending a clinic-based appointment that allows them to avoid taking time off work, save on travel costs and time.
Furthermore, for some service-users this might be the preferred option, as they would not need to leave their environment within which they feel safe and have control of.
'Video consultations via a mobile phone application will enable "face-to-face" consultations at very short notice, wherever the clinician is'
The team has a designated computer and telephone line exclusively for Skype use, as well as a TV screen to enhance the "face-to-face" Skype experience. Each team member has their own designated Skype account, and where appropriate Skype can also be used on laptops when staff are away from the team base (the team is a fully operational mobile-working team).
When required, clients have been issued with a webcam. Staff training has been delivered and Dr Van Rensburg works closely with the head of information and communications technology to ensure that Northamptonshire Healthcare Foundation Trust governance policies are being adhered to. Clients are also issued with guidelines and supported in establishing security settings.
Keeping clients safe
Service users with Asperger's syndrome frequently have a range of sensory difficulties, and often find using public transport and waiting in reception areas very challenging. Having the option of video consultations from home gives them the opportunity to remain in the setting where they feel safe.
Clients with ADHD often report significant time management difficulties, leading to late arrivals or missed appointments needing rescheduling - having an alternative that could be set up at short notice improves engagement in treatment and provides more opportunities to address concerns when they arise, as opposed to having to wait until the next appointment.
Clients can now also have an appointment outside the standard hours of 9am-5pm and there will be no need to book a clinic room for this. Skype is free to use and the team is saving on travel costs and time as the return-to-base journey can take up to three hours. With its increasing capacity, the team can address waiting list concerns, expand its training programme and consider other services to provide.
The team has plans for the future and the enhancement of the model. By using video consultations via a mobile phone application in the future will enable "face-to-face" consultations/supervision with colleagues and clients at very short notice, wherever the clinician is.