Biomedical engineers bring great value to the NHS and it's time we understood and appreciated their contribution, writes Helen Meese
From the moment you step into the doctor's waiting room or begin that first treatment, you are surround by technology. Over its near 70 year history, the NHS has been a leader in the development and implementation of life-saving devices and equipment.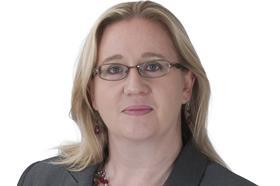 In its early days, this was the domain of entrepreneurial doctors and surgeons, whose passion for saving lives created new methodologies and innovative apparatus.
Today, whilst these clinicians remain fundamental in device creation, the effective design, development and safe implementation of much of the medical equipment and technology we see in our health service, is largely due to engineers.
Biomedical engineering
The discipline of engineering that interacts with the human body is principally the province of the biomedical engineer (BME). Biomedical engineering, is a diverse, exciting and relatively new area within the field of engineering.
It embraces devices for care of the new-born at one end of life to the independent living aids for the elderly at the other.
Working alongside clinicians, a typical BME will develop techniques for the diagnosis and treatment of illness, create aids for rehabilitation, model and simulate human physiology and anatomy and produce tools for wellbeing and social care. As well as providing organisation-level support to clinical and financial governance, including analysing and reporting on incidents involving medical devices.
The work of the biomedical engineering community remains largely hidden and undervalued
Engineers and technicians have the potential to play a huge role in relieving the pressure on stretched clinical staff, resources and budgets. Yet despite this not insignificant contribution to our health and care, the work of the biomedical engineering community remains largely hidden and undervalued, with their presence and significance often unclear, inadequately recognised and poorly understood by other NHS sectors.
This is compounded by the fact that the discipline itself is also fragmented and career paths poorly identified.
Biomedical engineering is often called clinical engineering, electrical and biomechanical engineering, rehabilitation engineering, amongst a host of other names. More recently, the NHS has adopted the term clinical biomedical engineer, as well as medical engineering technician.
Additionally, engineering staff may be managed within medical physics or clinical engineering departments, within an estates and facilities department, or even reporting directly into clinical services such as renal dialysis services or rehabilitation and enablement services. If cross-disciplinary working is to be successful within the health service then the skills of biomedical engineers need to be understood as a distinct discipline that offers significant value to patients, hospitals and the national economy.
But where biomedical engineers do exist, under whatever name, they provide trust-wide support across a wide range of clinical services. They are often responsible for the entire medical device life-cycle as well as delivering expert services directly to patients.
Senior engineers support clinical trials and provide a unique skill set to support the translation of academic research into industry-led product development.
New roles
As we move towards more personalised healthcare, the biomedical engineer will increasingly provide direct patient services through the application of new technologies and the manufacture of patient-specific devices. In such an environment, there is a need for trusts and other healthcare providers to develop a lead engineer role at an executive level to oversee these services and to develop new roles in response to changing demands and developments.
Certain positions, such as medical director or chief nurse, are required to be represented on a trust's board to oversee the quality of clinical care, patient safety and clinical governance. With the increasing importance and complexity of technology in healthcare, it is now time to raise the status of engineering to a similar level.
The Institution of Mechanical Engineers is calling for the creation of a chief biomedical engineer position in each acute trust, working alongside the chief clinical roles; with consistent qualifications, level of authority, decision-making abilities and critically, connectivity with other trusts to provide a healthcare technology strategy that maximises patient safety, clinical efficacy and overall value from medical technology.
The cost of implementing this senior position is outweighed by the benefits to patients, services, budgets and the NHS as a whole
It is our aim over the coming years to raise the profile of biomedical engineers across the NHS to demonstrate the value and contribution that engineers and technicians make to our healthcare services, the impact they have in helping to get the most from the NHS's budget, and the many innovative technologies which will help people live longer, healthier and more independent lives.
This would not only increase the opportunity for cost savings, but also encourage best practice in the procurement, quality, maintenance and use of medical equipment. The cost of implementing this senior position is outweighed by the benefits to patients, services, budgets and the NHS as a whole.
Today, the NHS is undergoing major reforms to ensure it is fit for purpose, yet affordable. Our biggest concern will be servicing a growing, ageing population with increased expectations about what the NHS can do against a backdrop of tightening budgets, rising costs and a commitment not to affect frontline services.
In an ever-more technical environment, we need highly qualified engineers to ensure we make the best decisions possible. The NHS will be profoundly influenced in future years by revolutions in big data, precision therapy, remote diagnosis and personalised treatment.
Medical equipment will not only provide solutions to problems such as delayed transfer of patients, but with equipment and infrastructure accounting for at least 20 per cent of the entire NHS budget, an integrated strategy for the procurement and use of medical equipment alone has the potential to create huge savings in the long term. It is key then that the voice of this particular group of the non-clinical workforce be heard.
Dr Helen Meese is head of healthcare at the Institution of Mechanical Engineers