Review finds greater engagement with diabetes management apps than face to face programmes
Pilot in London found patients far more likely to complete app based programmes
Some GPs concerned about administrative burden associated with apps
Diabetes apps should be adopted more widely after a pilot showed health improvements and better patient engagement than face to face programmes, a new study has found.
The report, by Imperial College Health Partners, evaluated a pilot in north west London of three different smartphone apps for managing type two diabetes: Changing Health; OurPath; and Oviva Diabetes Support.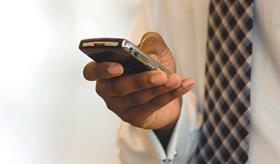 Overall, 430 patients at 18 practices participated in the pilot between March and August last year.
The evaluation showed patients were far more likely to complete app based programmes than face to face education offered through their GP.
Between 53 and 80 per cent finished the 8-12 week programme through the apps, compared to completion rates of less than 7 per cent for face to face programmes.
On average, patients lost 2.5kg weight over the period they were using the apps and the majority showed improvement against blood pressure and HbA1c measures.
For a minority of patients, these improvements were significant enough for them to stop taking medication to manage their diabetes, the evaluation said.
The report said: "Overall, high completion rates coupled with positive change in clinical indicators for digital behaviour change programmes in this pilot suggest they may be an effective alternative to face to face structured diabetes education programme."
"Within the limitations of this pilot, results support the wider use of smartphone apps for delivering structured diabetes education within the NHS."
The apps all provide a combination of educational information about diabetes management and track exercise and diet. Some also connected to wearable devices such as fitness trackers and peer support networks.
None of the three apps are currently in the NHS app library, which was set up last year to assess and endorse health apps for use in the health service.
The evaluation said overall patients' responses to the apps were positive, with some describing them as "life changing", but others reported difficulty using them or getting access to a smartphone.
The participating GPs that provided feedback for evaluation gave a mixed response, with some saying it had helped patients and others concerned about the administrative burden associated with apps.
More work is needed to judge whether the apps are more cost effective than face to face diabetes management, the report said.
Tony Willis, diabetes clinical lead for the North West London Collaboration of Clinical Commissioning Groups, said: "The results have been beyond our expectations. Historically, the education classes on offer for patients with type two diabetes have seen low attendance. There was an excellent uptake of patients completing the trial using the apps. This alongside the clinically significant improvements in HbA1c, blood pressure and weight show just how well people respond when they can receive support at the click of a button."
Commissioners are now developing an online diabetes "information hub", which will include the apps and other personalised information for patients with type two diabetes across north west London.