Government response to Dame Fiona Caldicott's third report on data security delayed by purdah
Expected to push back successor to Care.data
Plans still underway for new national opt-out system, "de-identification/re-identification service", and data lake
The government's long awaited response to the third Caldicott review has been pushed back by pre-election purdah, further delaying plans for a new NHS national data collection scheme.
A Department of Health spokeswoman confirmed publication of the response to the national data guardian's third report on NHS data security, which HSJ understands had been scheduled for late April or early May, would now wait until after the general election on 8 June.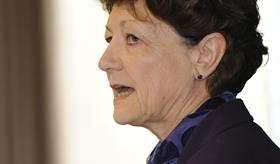 Dame Fiona Caldicott's review, published in July 2016, included a wide range of recommendations on improving NHS data security. It also recommended a new system for honouring the wishes of patients that did not want their data used beyond direct care.
The much delayed government response is required before the NHS can progress with elements of a new national data collection and distribution scheme, parts of which have already been pushed back several times.
The system would replace elements of the Care.data programme that was closed last year, following Dame Fiona's report and persistent criticism from privacy campaigners and patient groups.
NHS Digital, which is leading delivery on the data collection scheme, has yet to consult publicly on the successor to Care.data. However, parts of the scheme have been under development for months.
In response to a written question in the House of Lords, health minister Lord O'Shaughnessy said earlier this month that NHS Digital was expected to seek business case approval for its data services platform "shortly".
The data services platform will become the central national infrastructure for collecting and distributing "de-identified patient level commissioning datasets". At one stage, it was expected to be approved by Treasury last September.
In November, NHS England chief information officer Will Smart also consulted technology industry suppliers and NHS digital leaders on a new "national data lake", which would be filled by patient data gathered at a regional level.
NHS Digital's 2017-18 draft business plan, published last month, revealed other strands to the new scheme. These included establishing a "national de-identification/re-identification service" by January 2018 and securing cabinet approval for "GP practice data for secondary use" by the end of 2017.
Another part of the scheme, a "national opt-out model" for patients, is now expected to be rolled out by the end of September. HSJ previously reported that this was scheduled to go live in March.
Despite the government yet to formally respond to the Caldicott report it has already been affecting policy.
A recent DH review of Public Health England said NHS chief clinical information officer Keith McNeil was already reviewing how NHS Digital could "store and manage all relevant national sets of patient identifiable public health data in line with the stringent requirements of the recent Caldicott review". He was expected to report back in May.
NHS Digital did not comment directly on the delay or its national data collection scheme, citing purdah, but said work "continues on the basis of current legislation".