£26m IT project at NHS Blood and Transplant may have wasted up to £17m
Review criticises project's former leaders, including the current boss of the CQC
Second major IT project that Ian Trenholm has overseen that failed to meet objectives or costs
A major IT project that was run by the current chief executive of the Care Quality Commission while at his previous employer has been halted, with a review estimating it wasted up to £17m.
A review by PwC has specifically criticised Ian Trenholm's direct control of a £26m project while he was chief executive of NHS Blood and Transplant.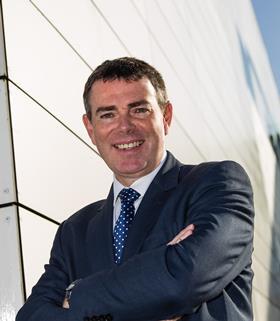 Ian Trenholm, the former chief executive of NHS Blood and Transplant, is now at the Care Quality Commission.
Mr Trenholm held the post at NHSBT from 2014 to 2018, before moving to the CQC in July last year.
A summary of the PwC review has been published today by NHSBT. It said leadership failures were partly to blame for shortcomings in the project.
The summary said: "PwC was critical of the programme leadership and of the organisation's failure to ensure there was the required capacity and capability through much of the programme.
"They identified a lack of consistent programme leadership with experience in large technology transformation programmes, resource gaps and significant churn in both programme leadership and programme team members….
"For a large portion of the programme, the chief executive (Mr Trenholm) undertook the role of the senior responsible officer, mainly because the incoming executive intended for the role was new and getting to grips with the rest of their portfolio.
"This made it difficult for individuals working on the programme to escalate concerns and it also made it difficult for the chief executive to challenge programme delivery effectively and independently."
The paper estimated that of the £26.3m spent trying to replace NHSBT's ageing electronic systems for managing blood and tissue supply, up to £17m may have to be written off as a "constructive loss".
In September last year, NHSBT's board under a new chief executive voted to halt the project, known as the "core systems modernisation programme", and stick with their old IT systems.
When Mr Trenholm was hired by the CQC, the regulator's chair Peter Wyman cited his "track record of delivering technological innovation at scale in order to deliver benefits for people".
HSJ first reported concerns about the NHSBT project in May last year, revealing that despite more than £20m being spent the new systems could only book appointments and deliver birthday greetings.
It is the second major government IT project that Mr Trenholm has overseen that has failed to meet its objectives or costs, with a £215m scheme for paying farmers sparking a National Audit Office investigation.
The CQC's "delivery of digital programme" was also rated "red" in a paper presented to the CQC board in February, which said parts of the programme have been "paused to revisit its discovery phase". The regulator was expecting to spend £12.2m on digital projects in 2018-19 and a similar amount next year.
Other findings of the PWC review include:
"Key weaknesses" in how the core system modernisation programme was set-up and governed, with the board overseeing it struggling to "track the value of what was being delivered".
Staff who raised legitimate concerns about the programme felt they were "silenced or partly ignored".
NHSBT's leadership failed to ensure there was capacity to deliver, with staffing gaps, high turnover, heavy reliance on the external suppliers, and staff promoted beyond their experience.
The programme moved too fast and was too ambitious, relying on "agile" ways of working that senior leaders did not fully understand.
Speaking to HSJ, NHSBT's interim chief executive Sally Johnson said the programme had always been under immense time pressure after the supplier of its existing IT system, Hewlett Packard, informed the organisation that it would switch off support in 2017.
"We really didn't have much choice but to stand-up this IT programme," she said.
"You can't issue blood without a supporting IT system. So it was a very big problem that we had to respond to extremely quickly."
However, she said when Hewlett Packard reversed the decision to pull support, it made sense to stick with the existing system.
Asked whether, as a board member at the time, she was aware of difficulties in the programme, Ms Johnson said attempts were made throughout to improve it.
"I think the board had visibility throughout, but we didn't have quite the right metrics."
Ms Johnson said any future IT projects would be run differently, including a clear separation between a senior responsible officer and chief executive.
The review made 26 recommendations, including reviewing the culture to better promote a "culture of speaking up" and leadership considering "how their perceived lack of support for any programme can impact on performance".
Ms Johnson said NHSBT had accepted all recommendations.
In response to a question from HSJ, CQC chair Peter Wyman said IT difficulties at NHSBT were discussed with Mr Trenholm when he was hired, including his "learnings and reflections from the [IT] programme". The project had also had some success, he said, including a new communication system with blood donors and hospitals.
"It is also important to note that CSM was only one part of a complete technology refresh at NHSBT which took place during Ian's leadership, which included a new transplant management system."
He added: "The PwC report makes clear recommendations to NHSBT. Many of the recommendations align with actions CQC has already taken to ensure robust governance around our own programme of change improvement, of which infrastructure and IT improvements are central elements."
Steps were being taken to improve the performance of CQC's digital programmes, with ratings expected to rise to amber next month, he added.
Source
NHSBT and CQC board papers, interview with HSJ, information provided to HSJ