Outgoing information centre chair reveals frustrations
Criticises the impact of Tim Kelsey, former NHS England tech leader
New NHS England technology officer will add to "multi-headed hydra" of decision makers
Says HSCIC has been transformed from "weak link to a fundamental asset"
Muddled leadership, competing agendas and a risk averse culture are damaging the NHS's digital agenda, a senior figure has warned.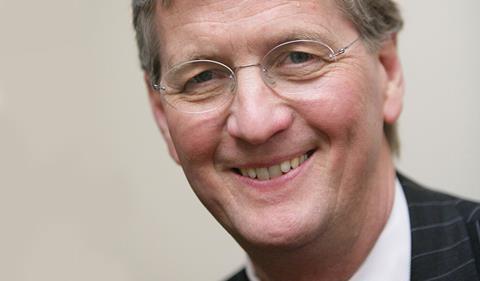 Kingsley Manning
Outgoing Health and Social Care Information Centre chair Kingsley Manning also criticised the impact of former NHS England director of patients and information Tim Kelsey.
Speaking in a personal capacity in an exclusive interview with HSJ, Mr Manning said the imminent appointment of a new central chief technology officer would likely add to the "multi-headed hydra" of decision makers.
Mr Manning said he was proud that during his three years in post at HSCIC, which is soon to be rebranded NHS Digital, it had been transformed from "a weak link to a fundamental asset".
However, the former McKinsey & Company senior adviser, who has spent 30 years in health technology, raised major concerns about the NHS's approach to the digital agenda. He said the NHS and its leaders were still "too risk averse" and not ready for the kind of "disruption" required.
"We are basically delivering a whole set of administrative systems that by 2020 might get us somewhere most other industries were 15 years ago. So we are playing catch up," he said.
Mr Manning, who leaves this month, also took aim at "diffuse" leadership on technology in the NHS and a "disconnect" between various strategies. These meant it was not "clear how or where [key decisions about technology] are going to be made, or who is going to make them".
In a significant claim illustrating his frustration, he said the departure in December of Mr Kelsey, one of NHS England's most high profile directors, had resulted in more being achieved in four months than in the previous three years.
He said: "We have, over the last three or four months, had a very effective partnership between ourselves, NHS England and the National Information Board. I think we've made more progress since December in sorting out a whole host of agendas than we had done in the previous three years."
Asked what had changed since then, he said "personnel", before elaborating: "We had a breathing space after Tim's departure which allowed an awful lot to be sorted out…
"There is always a problem about visionary missionaries [like Tim] and I think it's about delivery, detail, breadth of understanding of the practical reality of delivery.
"Tim's legacy has been to gain a lot of attraction for some of these issues. Some of that was not very helpful from our perspective. The Care.data debacle – we are recovering from that process. I think we are still concerned that when you talk to journalists and the system, how much that resonates."
Mr Kelsey, responding, said he was "proud of the delivery record" during his time (see full comment below).
Mr Manning also raised concerns about the appointment of a new chief technology and information officer by NHS England, expected this summer.
"It's intriguing that you try to put someone in this leadership role, but they are not a member of the NHS England board. I think any candidate will think, 'where do I sit in all of this?' [The NHS policy making process is like] a multi-headed hydra of individuals and groups, and I think we're adding another one to that list."
In contrast, he said of HSCIC: "In three years we moved from being a weak link to a fundamental asset… What I hope we've done is shifted from a presumption of failure around IT to, essentially, a presumption that things should work, and do work.
"Some of the delivery is stunning. Fifty million people use NHS Choices with no down time. The Spine has been run for 14 months with no down time and does more transactions than the whole of the UK credit card industry. Forty per cent of savings by government on IT programmes were generated by HSCIC".
Elaborating on the NHS's problems adopting technology, he said: "If you want to unleash the power of technology and data, it comes with a level of disruption. Organisations may disappear. Professions and jobs may be changed fundamentally by the technology.
"One of the frustrations is that I don't think the NHS in particular is prepared to accept that level of that disruption, and I don't think the leadership does either. That's understandable, but equally, if you are not prepared to take that level of disruption, then the benefits you are likely to get are likely to be relatively modest."
Mr Manning said he was unsure what his next role would be, but said he had "unfinished business" in health technology. He will be replaced by Noel Gordon, an NHS England non-executive director, from June.
Mr Kelsey, asked to respond to Mr Manning's comments, told HSJ: "I am proud of the delivery record of NHS England and HSCIC and of all the members of the National Information Board over the last few years – especially in enabling every citizen in England to access GP services online and securing more than £4bn funding to support technology implementation in the NHS.
"Mr Manning played his part in those achievements but he was right to step down as chair of HSCIC. I wish him good luck in the future."
NHS England, asked to comment, said: "NHS England welcomes the appointment of [Mr Gordon] as the new chair of NHS Digital and the focus on aligned technology delivery this will stimulate."
Exclusive: Departing boss blames leadership for tech woes
1

Currently reading

Exclusive: Departing boss blames leadership for tech woes

2