US digital health expert outlines his preliminary thinking about his review exclusively to HSJ
Professor Wachter is discussing a shakeup of the role of NHS chief clinical information officers
He indicates there is a need for changes to financial and regulatory incentives
The US digital health expert advising the government on NHS technology has given a firm steer that he may call for a substantial shakeup of the role of chief clinical information officers.
Robert Wachter set out the direction of the review, which he was asked to carry out by health secretary Jeremy Hunt last year, in an exclusive interview with HSJ.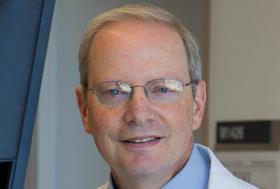 Professor Wachter worked for the NHS for six months in 2011. He said it was an "amazing once in a lifetime opportunity" to carry out the review of a health system he described as a "jewel".
He said his work was at an early stage but that his review group was "grappling" with several "overarching challenges". These include clinical engagement; financial and regulatory incentives; and the balance between central and local leadership.
He suggested there needed to be a significant rethink of the role of chief clinical information officer in the NHS, to drive digital adoption.
"I do think [the role of CCIOs and how to engage clinicians] will be an important direction to make recommendations in," he said. "Allowing [the CCIO] workforce to grow and be certified, potentially, and be validated. It's not the whole answer but it's going to be a piece of the answer."
Professor Wachter, who is currently interim chair of the department of medicine at the University of California, San Francisco, explained that in the US this "cadre of people… the connectors between clinicians and technology people" were viewed as "essential" to successfully deploying technology.
CCIOs in America are lauded like "rock stars" and given senior executive roles in their organisations, he said, but in the NHS they were "not particularly well supported [and have a] relatively lower status in terms of who they report to and how they are compensated".
Asked if he thought there needed to be a national CCIO, Professor Wachter said this was an "interesting idea" but that the "more striking deficiency is on the ground" at individual trusts.
He spoke to HSJ ahead of the publication today of the terms of reference for the review (see box, below). They specify "a particular focus" on the role of clinical engagement in achieving the government's target of an NHS whose services are paper-free at the point of care by 2020.
Addressing another of his "overarching challenges", Professor Wachter suggested that NHS financial and regulatory incentives needed to be "flipped" to encourage hospital chief executives to embark on digital projects. They could be offered "protection" even if there was a "slightly bumpy rollout" of an IT project.
Another areas of focus will be the "tricky balance" between pushing the digital agenda top-down from the centre, and allowing it to be locally driven, he said.
Professor Wachter said that – while he recognised the national programme for IT of the 2000s was too top-down – there were areas, such as setting core standards and funding, where the centre could play an important role.
As exclusively revealed by HSJ last month, he has assembled a team of leading international experts to advise him. He said he had taken advice from his "hero and mentor", the world renowned quality improvement expert Don Berwick, who carried out a similarly rapid review for the NHS on patient safety.
He said he wanted to follow Professor Berwick's example of putting together an advisory group which had a mixture of international, including US experts, but was primarily UK led and with strong patient advocates.
"This could not be, or be seen to be, a bunch of folks from the US telling the UK how they should do their work," he said.
Like Professor Berwick, Professor Wachter and his team are working for free, although they will be compensated for expenses such as travel.
Professor Wachter's book, The Digital Doctor, was published last year to acclaim among health policy and informatics experts on both sides of the Atlantic.
The Wachter review terms of reference
The terms of reference (see full document attached) say the review will: "Inform the English health and care system's approach to the further implementation of IT in healthcare, in particular the use of electronic health records and other digital systems in the acute sector, to achieve the ambition of a paper-free health and care system by 2020."
They state: "It will have a particular focus on issues around successful clinical engagement with implementation."
Professor Wachter and the advisory board will:
Review and articulate the barriers to implantation of IT in the health and care service, drawing relevant comparisons with the US experience
Make high level recommendations about IT implementation
Make recommendations on how best to engage clinicians
Evidence will be gathered through a combination of available written evidence, meetings with senior figures in the health and care system, and site visits to trusts with varied experience of implementing IT systems.
Professor Wachter will report his recommendations to Mr Hunt and to the National Information Board in June this year.
Exclusive: Government tech review to shake-up clinical leadership
1

Currently reading

Exclusive: Government tech review to shake-up clinical leadership

2

3

4