National data guardian says number of exceptions being sought to new data opt out scheme "problematic"
Dame Fiona Caldicott calls for more public engagement ahead of March deadline for opt out scheme
Comes after claims that the scheme could jeopardise national cancer strategy
Dame Fiona Caldicott has warned the government that too many exceptions to the new patient data opt out scheme risk repeating the failings of Care.data.
Speaking exclusively to HSJ, the national data guardian said the number of organisations seeking to escape the requirement to honour a patient's decision not to share their identifiable health data was "problematic".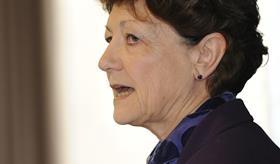 While there should be some exceptions to the opt out, such as monitoring communicable diseases and the "overriding public interest", she said the public would "not be happy" if a wide range of their identifiable health information was shared against their explicit will.
Dame Fiona said: "The last thing we need to do is impair their trust that data is being used as they wanted.
"I am hoping that we don't have so many exclusions that we have some of the problems that we had a year or two ago with Care.data."
In most cases, opt outs should be honoured or permission sought separately from patients, she said.
"There are very strong views that [the opt-outs] will damage the disease registry. I just think we need to be more rigorous and review where we can get people consent for this information," Dame Fiona added.
In August, HSJ revealed that two leading cancer charities contacted health secretary Jeremy Hunt with concerns that applying the new opt out to the cancer patient experience survey could jeopardise delivery of the national cancer strategy.
Dame Fiona also said that while the Department of Health was currently doing "very thorough work" to develop the national opt out by its "ambitious" March 2018 deadline, greater focus was needed on engaging with the public "very quickly".
She continued: "We'd like to see more evidence of this work being done to talk to the public.
"We need much more clarity for patients about their rights and about how their information is going to be used."
Dame Fiona, who has committed to a further two years as the national data guardian, was speaking ahead of the publication of her first "impact and influence" report today.
The report is largely a review of her first three years as the guardian, including her third review in 2016 that recommended a new national patient opt out scheme and led the government to finally scrap the controversial Care.data project.
However, today's report also cautioned against "watering down" the opt out and set the guardian's priorities for the year ahead.
These include implementing the reviews' recommendations, placing the national data guardian on a statutory footing and setting expectations for how NHS patient data should be used to develop new technology, such as artificial intelligence.
Since accepting all of the third Caldicott review's recommendations in July, the DH has been wrestling with how to apply and build the data opt out scheme.
The first dilemma is whether to give patients a "one tick" nationally applicable opt out to the use of their identifiable health data beyond direct care, or a "two tick" opt out with an additional option to object to sharing of their data for research.
Dame Fiona's review left the door open to either option but she told HSJ her preference was now for "one tick", which could be changed later in response to further evidence if required.
Questions remain about how the more than 50 existing disparate NHS patient opt outs schemes will be incorporated into the national scheme and what data collections will sit outside the patient opt out.
The NHS is also establishing a new national data collection and sharing scheme, based on regional data hubs and effectively the successor to Care.data, which will rely on the national opt out.
The DH was approached for comment.