NHS chief clinical information officer says more clarity needed in IT funding
Warns technology suppliers to release grip on patient data
Priority to introduce national standards for recording and sharing patient information
The top digital clinician in England has asked officials to provide "more clarity" on national technology funding, amid confusion about what money is available.
In his first interview since he was appointed national chief clinical information officer last year, Simon Eccles told HSJ local NHS IT leads had been telling him clarity was needed on the NHS's national IT strategy and funding.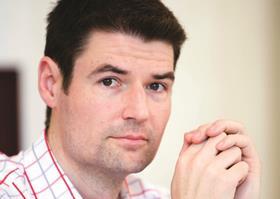 "Clarity around that offer [of central IT funding] and how you take part in that offer needs to happen, and it needs to happen very quickly and I've asked for that within the first financial quarter of [this] year," he said.
"We are much more likely to get the benefit we want from that central funding with that clarity."
His comments follow HSJ reporting last month reported delays and confusion around access to hundreds of millions of pounds in "provider digitalisation" funds.
There is also a history of national technology funds being cut to support other parts of the NHS, including in the first year of the previous push to improve IT in the NHS.
Dr Eccles also said there were too few IT suppliers dominating the NHS market and controlling access to patient data.
He said: "The [health IT] vendor community has not moved on as much in the last 10 years as I would have liked, whereas the user experience with digital technology has moved on significantly in the rest of our lives.
"That contrast is very apparent and needs to be resolved."
Suppliers would increasingly be contractually required to allow for the free flow of data out of their systems, he said. This would help support population health and an ecosystem of small software suppliers.
Dr Eccles added: "If we take the next big framework to come out, which will be the GP IT framework. I would expect that if the data can't freely flow out of those systems, they don't get to be on the framework. If that causes changes in the GP IT market, so be it."
Dr Eccles was an emergency consultant at Guy's and St Thomas' Foundation Trust, prior to his appointment as CCIO in February, replacing the NHS's first national CCIO Keith McNeil. His role is across NHS Improvement and NHS England.
Previously he has held national policy roles and was also involved in the National Programme for IT as medical director for Connecting for Health.
Dr Eccles described his involvement in the NPfIT, which costs billions of pounds and failed to achieve many of its core aims, as "very hard, very painful" and said it led him to debate whether he should take his current role.
"But my friends, wife and peers all pointed out that the world is significantly different than it was when we tried the national programme.
"Eighty-five per cent of citizens have what we would have considered a full blown computer in their pocket… we are entirely digitally comfortable, and that means the level of frustration and unacceptability of where we are now [in the NHS] is becoming clearer and clearer," he added.
Dr Eccles said his biggest priority was digitalising detailed patient information in the NHS and allowing this information to flow across systems and organisations, including with patients.
Some of the ways of doing this were emerging with the global digital exemplar programme, which funds a selection of trusts to provide blueprints for digital transformation for other providers to follow.
However, creating common national standards for how information is captured, formatted and shared was equally important, Dr Eccles said.
Some priority national standards would include: staff ID; citizen ID; dates and scheduling; basic observations; basic pathology; medications; and diagnostic codes.
Improving poor understanding of IT on the board of many NHS organisations was an important first step, he said.
Dr Eccles added: "It's about how we help boards understand what they need to do. We talk about the digital ready workforce but a digital ready board is more challenging again."
Exclusive: More clarity needed on tech funding, warns NHS top digital doctor
1

Currently reading

Exclusive: More clarity needed on tech funding, warns NHS top digital doctor

2

3