Treasury approves £160m for 16 acute global digital exemplars
After multiple delays, scepticism remains about the funding arriving
Additional funding announcement on the seven mental health digital exemplars imminent
The Treasury has approved £160m of funding for 16 flagship digital trusts, but concerns remain about delays in accessing the money, HSJ has learned.
HSJ understands that the 16 acute global digital exemplar trusts have been sent a letter by NHS Digital saying the Treasury has approved their exemplar funding, but it also says "obstacles and conditions" remain before this will be released to trusts.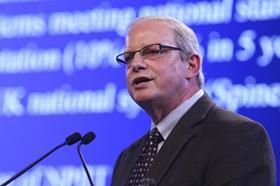 An NHS England spokesman confirmed the funding, of up to £10m per trust, had been approved and would start being released in the first half of 2017-18.
HSJ also understands a separate funding announcement on the seven mental health digital exemplars is imminent. If that funding is approved, it would take total central funding for the exemplars to £195m.
While the letter was welcomed, several senior figures involved in the programme told HSJ they would continue to be wary until the funding arrived.
Last month HSJ reported concerns that delays meant the funding had already been raided for other parts of the NHS. All four of the previous flagship digital funds set up by NHS England have been cut, some severely.
The government announced the first 12 global digital exemplars in September, off the back of recommendations in Professor Robert Wachter's review of IT in the NHS.
The exemplar trusts, initially all acutes, were picked because they were already considered digitally advanced. Each exemplar was told they would the receive £10m in central funding, to be matched locally, to advance further and help provide a "blueprint" for digitalisation across the NHS.
Since then a further four acute exemplars have been announced, along with seven mental health digital exemplars. The latter organisations will receive up to £5m each.
NHS England's commitment to exemplar programme was further publicised in the Next Steps on the NHS Five Year Forward View document last month. The document said less digitally advanced trusts would no longer pick their own IT systems, but rather use an exemplar's systems as a "blueprint", adjusted slightly for local circumstances.
However, none of the initial 12 exemplars have received any central funding to develop the blueprints, despite previous assurances that the money would available last November.
One senior source said: "We are still in the planning phase when we expected to be in the implementation phase. If we don't get the money in the next few months we will have to start reprofiling."
Another source at a different exemplar trust was more optimistic, and said they were confident funding would be received by the end of this month.
The NHS's global digital exemplars
The 16 acute trust exemplars:
City Hospitals Sunderland FT
Royal Liverpool and Broadgreen University Hospitals Trust
Salford Royal Hospitals Trust
Wirral University Teaching Hospital FT
University Hospitals Birmingham FT
Luton and Dunstable University Hospital Trust
West Suffolk FT
Royal Free London FT
Oxford University Hospitals FT
Taunton and Somerset FT
University Hospitals Bristol FT
University Hospitals Southampton FT
Cambridge University Hospitals FT
Imperial College Healthcare Trust (with Chelsea and Westminster FT)
Newcastle upon Type Hospitals FT
Alder Hey Children's NHS FT
The seven mental health exemplars:
Berkshire Healthcare FT
Birmingham and Solihull Mental Health FT
Mersey Care FT
Northumberland, Tyne and Wear FT
Oxford Health FT
South London and Maudsley FT
Worcestershire Health and Care Trust