Four trusts picked to improve IT system developed for National Programme for IT
Paid for out of £600m DHSC fund, once described as "bribe" for trusts to take a "hopeless system"
Trusts will be expected to be among the most digitally advance in the country within three years
Four trusts will receive additional national support to improve the Lorenzo IT system, five years after a senior MP branded it a "hopeless system" supported by a government bribe.
Lorenzo supplier DXC Technologies will receive about £10m to fund a national "digital exemplar" programme for the National Programme for IT era electronic patient record, with the trusts involved supported to develop "digital blueprints" for other trusts to follow.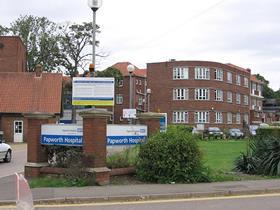 NHS Digital confirmed Royal Papworth Hospital Foundation Trust; Hull and East Yorkshire Hospitals Trust; North Staffordshire Combined Healthcare Trust; and Warrington and Halton Hospitals FT had been selected.
Over the next two to three years, the four organisations will be expected to use the extra DXC support to become some of the most digitally mature trusts in the country and demonstrate how Lorenzo can be used to drive down costs, care variation, and improve efficiency.
The Lorenzo electronic patient record was first developed and used during the National Programme for IT in the 2000s, but had an extremely troubled early rollout.
The system attracted criticism in 2013 after the Department of Health and Social Care set aside £600m to pay trusts to buy Lorenzo as part of an agreement with supplier CSC to unwind the National Programme for IT. CSC has since been acquired by DXC.
Commenting on that deal at the time, then Commons public accounts committee chair Dame Margaret Hodge, said: "You are going to spend [more money] with this rotten company with a hopeless system. How much are you putting in of our money to bribe trusts to buy this system?"
Fifteen trusts have since taken up the offer, including the four exemplars, with 21 trusts using Lorenzo overall.
Like the trusts in the global digital exemplar programme, the four Lorenzo trusts will be expected to eventually buddy with another trust and help them use Lorenzo.
However, unlike other exemplars, they will not have direct access to funding with the money instead funnelled through DXC.
The funding is not new money, coming instead out of the pot set aside by DHSC as part of the 2013 agreement with CSC.
NPfIT and Lorenzo
Under the National Programme for IT, CSC, which has since been bought by DXC, was granted exclusive rights to supply systems, including Lorenzo, to 160 trusts in the North, Midlands and East.
The deal was worth £3.8bn in 2012 prices.
However, after development problems and disruptive deployments, Lorenzo was only ever deployed in a handful of trusts.
As part of extricating the NHS from NPfIT, the DHSC and CSC reached a deal in 2013 where trusts could pick other IT systems but would receive additional central funding if they picked Lorenzo.
Most of 21 trusts that run Lorenzo were funded under this arrangement.
The DHSC continues to spend tens of millions of pounds a year on NPfIT "legacy contracts", such as the 2013 agreement with CSC.
NHS Digital provider support director Alex Chaplin said: "[The trusts] articulated a clear vision of how they would use the opportunity to transform patient care through exemplary use of their electronic patient record system and other digital tools.
"This programme is one of a number of ways we're working to transform healthcare provision through maximising the potential benefits of using electronic patient records."
A spokeswoman for Hull and East Yorkshire Hospitals said the extra support would be used to improve Lorenzo and associated systems, such as e-prescribing, e-observations and bed management, as well as digitalising specific clinical pathways.
"It will make a significant contribution to progressing with digital maturity across the pathways identified and will develop a blueprint for rolling out to other pathways at HEY and that can be shared across the Lorenzo trusts," she said.
A DXC spokeswoman said: "The Lorenzo exemplar programme is an exciting opportunity for us to work with the four trusts… to maximise the benefits from their electronic patient record solution, help them increase their levels of digital maturity and share their learning with others."
All four trusts were approached for comment.