Royal Free hails deal with Google's DeepMind as "game changer"
Trust will continue developing DeepMind's real time patient data tracking app
Trust says app will help save lives and drive productivity
Deal follows controversy over the firm's access to patient data
The NHS has deepened its relationship with Google after a leading hospital trust announced the most significant deal to date between the health service and the tech giant's artificial intelligence arm.
The Royal Free London Foundation Trust's five year "developmental" deal with Google's AI specialists DeepMind extends an existing partnership, which was already one of the NHS's most closely watched digital projects. The firm is a subsidiary of Alphabet – Google's parent company.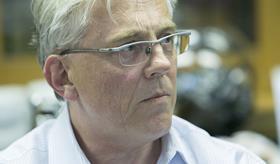 Trust chief executive David Sloman told HSJ the Streams app it is developing will be a "game changer". It will track real time patient data and alert clinicians "within seconds rather than hours" when patient tests show signs of serious illness.
Mr Sloman added: "All our patients will benefit from it. Doctors and nurses currently spend far too much time on paperwork, and we believe this technology could substantially reduce this burden, enabling doctors and nurses to spend more time on what they do best – treating patients."
The app, which the trust aims to roll out in early 2017, will first be used for early detection of acute kidney injury (see box below), which costs the NHS £1bn a year. The trust hopes to extend it to other conditions such a sepsis and serious organ failure in the coming years.
The project has received NHS England's approval. NHS chief clinical information officer Keith McNeil said: "I am delighted that the Royal Free are going to be able to use the brilliant technology and innovation offered by a partner of the stature of DeepMind to help deliver better, safer care to their patients.
"I commend them for their initiative and wish them every success with the venture."
Neither the trust nor DeepMind would disclose the financial arrangements of the deal because of "commercial sensitivity".
HSJ understands the costs for the NHS will be relatively low in the development phase. The company will aim for significant financial gains, but in the longer term.
One senior digital health expert told HSJ: "Google's aim, like many other companies, is to get as much patient data as they can to train their algorithms, make them as sophisticated as they can, and they have something they can sell.
"There is a political issue with all these pilots where the NHS is giving private companies access to huge reams of training data, which they will turn into something they are able to commercialise. Is that something we are comfortable with? There are a few issues to be unpicked."
Widespread concerns were raised by the media and campaigners earlier this year about the level of access DeepMind had to the trust's patient records after the New Scientist obtained a copy of a data sharing agreement between the company and the trust.
While the trust maintains information processed by the app was for the "purpose of patient care only" and it would "remain the data controller at all times", there is an acceptance this is a key issue.
DeepMind co-founder Mustafa Suleyman said it was a "privilege" to work with the Royal Free. He added: "Privacy and trust are paramount, and we're holding ourselves to an unprecedented level of oversight by publishing our agreements publicly and engaging nine respected public figures to scrutinise our work in the public interest."
The trust said the app would cut the time clinicians search for data in existing systems to the extent that it would allow "an estimated 500,000 hours per year [to be redirected] into direct patient care".
A trust statement added: "Around 10,000 people a year die in UK hospitals through entirely preventable causes, and some 40 per cent of patients could avoid being admitted to intensive care if the right clinician was able to take the right action sooner."
Mr Sloman added that the project would play a key role in underpinning the north west London sustainability and transformation plan, increasing productivity and "moving away from a model based on sickness to a model based on health and pushing care… down the pathway beginning with self-care".
He said a patient in an intensive care bed costs the trust £2,000 a day, and the saving implications of early detection would be significant.
Google acquired London based DeepMind for a reported £400m in January 2014. The company has been working with the Royal Free since 2015. It is also working with University College London Hospitals FT on improving scans through machine learning and with Moorfields Eye Hospital on using machine learning to identify eye conditions in retinal scans.
Responding to the announcement, Phil Boot co-ordinator at privacy campaign group MedConfidential, said: "It's unclear why this re-announces all the bits that didn't cause concerns a few months ago; and leaves the copying of SUS [secondary uses data] to DeepMind entirely intact.
"The Google vision of a digital NHS is reliant on historic billing files copied in monthly instalments. Why not build a vision on timely, accurate, relevant information available to clinicians about the patient in front of them?"
How the Streams app works to detect AKI and alert clinicians
Blood tests and other relevant clinical data are streamed over a secure encrypted link to a data processor and analysed in real time.
Potential significant changes in serum creatinine, suggesting AKI, are detected within seconds and alert messages are streamed to a specialist's mobile device, along with relevant patient history.
The platform integrates data from multiple sites and systems so it can compare changes in kidney function between blood tests from different laboratories.
The platform is genuinely mobile and secure, allowing a consultant nephrologist to monitor significant changes in kidney function in patients while on call.
Progress and recovery of patients can be followed up in-application.