Trust chiefs have taken to Twitter in significant numbers in a bid to keep in contact with staff, swap ideas and drive good practice, HSJ research has revealed.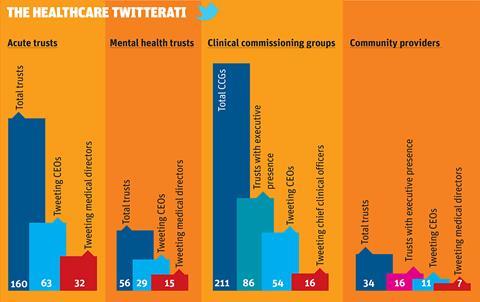 Healthcare twitterati
More than one in three acute trust chiefs are active on the social network site, our analysis shows. Just more than half of mental health chiefs post tweets and a third of community provider chief executives have twitter handles.
Health chief tweeters told HSJ they also used the service to mentor junior colleagues, boost staff engagement and keep up with academic research.
Sarah-Jane Marsh, chief executive of Birmingham Children's Hospital Foundation Trust, has 1,890 followers. She said her team's Twitter activity "had to be a factor" in a rise in response rates to the national staff survey within her own trust.
These had risen from 44 per cent in 2012 to 59 per cent in 2013.
Gavin Boyle, chief executive of Chesterfield Royal Hospital Foundation Trust, has 1,022 followers. He uses Twitter as a staff engagement tool. Two thirds of his followers are hospital employees.
He said: "I see Twitter as a good tool for organisational development and I see that as a fundamental part of my role. [Engaging on Twitter] is something you make time for. I look at twitter once or twice a day."
Stuart Poynor, chief executive of Staffordshire and Stoke on Trent Partnership Trust, has 2,215 followers. He said he used the network to encourage the next generation of healthcare leaders.
"I basically went on Twitter and said 'If anyone's interested, I'll mentor the next five people how respond to me.'" He regularly messages his mentees using Twitter, he added.
Social media was used by other senior figures as a learning resource.
South Devon and Torbay CCG chief clinical officer Sam Barrell, who has 890 followers, said: "There's a huge exchange of ideas and thinking on health policy [on Twitter].
"It's not necessarily in the 140 characters, of course, but in the links to blogs, papers and academic research."
Despite its benefits, some chiefs could still be put off from engaging with social media, according to Karen Lynas, deputy managing director of the NHS Leadership Academy, which provides training to NHS staff.
Some were deterred for fear of breaching confidentiality, worries about online exposure and the pressures of day to day work.
"[Twitter] is not used as well as it could be yet," she added. "There's a nervousness and some reluctance to get on board with social media from the chief executives I have been speaking to."
Ms Lynas believes that the busy and pressured nature of a leadership role at an NHS organisation is another reason why social media use is not more widespread.
Health chiefs flock to Twitter to talk to staff and the public
1

Currently reading

Health chiefs flock to Twitter to talk to staff and the public

2