HSJ unveils inaugural Top Innovators list.
Medics, thinkers, policy makers and managers are among the names on HSJ's inaugural Top Innovators list, unveiled tonight at an event in central London.
The 50 people on the list include Salford Hospitals Foundation Trust chief executive David Dalton, outgoing royal College of GPs chair Clare Gerada, doctor and science writer Ben Goldacre and cardiothoracic surgeon Ben Bridgewater.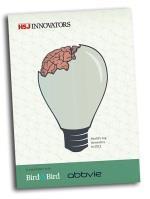 The list, supported by Bird & Bird and AbbVie, recognises the people whose contributions are making a tangible difference to patients, colleagues, the healthcare system or wider society. It seeks to reflect the diversity of pioneering work and approaches across the healthcare system.
The names were announced by HSJ editor Alastair McLellan.
He said: "I'm delighted to announce HSJ's first ever listing of the 50 most innovative people in UK health services, celebrating those who are willing to challenge the accepted wisdom, to ask the difficult questions and not take no for an answer within the health sector.
"I would argue that there is actually more clever thinking going on in the NHS than at any time in its history. The people on this list are the people driving change, and providing inspiration and leadership. This list recognises the people who change the rules of that game; who find ways to inspire and/or drive service improvement that moves the service forward."
The 50 names were chosen from a longlist of 100, who were nominated by HSJ readers on Twitter and hsj.co.uk.