Imperial College Health Partners has appointed Axel Heitmueller as its new managing director.
Mr Heitmueller has been involved with the academic health science network since its inception in 2011, initially as an interim director. He joined ICHP full-time in August 2013 as director of strategy and commerce.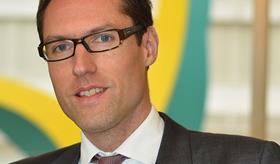 He will replace Adrian Bull who became chief executive of East Sussex Healthcare Trust in April.
In the last year, ICHP programmes have helped speed up referrals for patients with brain injuries; reduced waiting times for patients with early onset psychosis; helped decrease variation in cancer care; and ensured that patients at risk of stroke receive the right medication at the right time.
Plans for next year include five programmes related to the organisational and system needs of sustainability and transformation plans.
Mr Heitmueller said his first priority would be to find out "what keeps our partners awake at night" and then respond to the underlying problems facing organisations.
This will be a change in approach for ICHP, he said. "Three years ago [when presented with a problem that needed solving] we would have said 'here is all kinds of innovation – let's go and do it'. The conversation always started with the gadget or the innovation. But the real challenge is to spend time teasing out what the real issues really are."
Mr Heitmueller said members want assistance in three areas: change management; capability building; and systems leadership. He believes that on these "big ticket" demands, the services offered by ICHP trump what is available from external consultancies.
ICHP's partners have also said they want "nimbleness and responsiveness". In the past the organisation has "not always had the capacity to be so responsive", Mr Heitmueller said.
"Our ongoing challenge is to get the message across that a wealth of innovation and experience sits here at the ICHP. We have the ability to fix some of the issues locally and to lobby centrally."
NHS England has signalled that while they are committed to AHSNs, next year it is likely to begin a re-licensing process for 2018-19.
Mr Heitmueller said he was more worried about the possibility of losing ICHP's licence and "the access to national and international networks that come with it" than the threat of reduced funding.
"ICHP is in a fortunate position with regards to other income sources, and so for us, I am less worried about the money. Having a licence and being part of the club is of value even if there is no money. We are diversifying anyway – grant income, commercial income. I'm less worried about the money. I would be more disappointed if we weren't part of the club," he said.
ICHP had income of £5m last year, two thirds of which came from NHS England and the rest from membership fees from its 20 partners.
It is not yet clear how AHSNs will be assessed under the re-licensing process, though Mr Heitmueller said he believes feedback from partners will form part of the assessment.