NHS England chief clinical information officer says boards not looking at e-prescribing "need to be sacked"
Keith McNeil suggests CQC should make e-prescribing and medicine management uptake mandatory for best ratings
Comments come ahead of report showing e-prescribing and medicine administration technology can halve hospital prescription errors
EXCLUSIVE: NHS's top digital clinician has said acute trust boards that are not looking seriously at electronic prescribing should be dismissed.
Keith McNeil, NHS England's first chief clinical information officer, told HSJ: "If boards are not incentivised by the fact that they are putting their patients at risk they need to be sacked."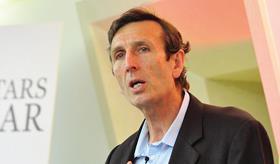 His comments come as new research shows e-prescribing technology can halve serious prescription errors in hospitals.
Dr McNeil also said Care Quality Commission inspections of acute services should explicitly include the uptake of electronic prescribing and medicine administration.
Acute hospitals should be required to have a complete electronic system, known as a "closed loop", to receive a good or outstanding CQC rating, he said.
"I think the centre should be persuasive in asking why hospitals don't have e-prescribing or have a plan to move towards e-prescribing," he added.
Dr McNeil was responding to new research, shared with NHS England but not yet published, that shows having closed loop digital prescribing and medicine administration can cut serious prescribing errors by more than half.
The former Cambridge University Hospitals Foundation Trust chief executive was appointed the NHS's first chief clinical information officer last year. In August, HSJ reported Dr McNeil will be leaving the role to return to Australia.
The research, commissioned by National Institute for Health Research, is the first large scale study to measure the technology's effectiveness in the NHS.
Dr McNeil said the study, when released in full, should be "dynamite" and spark a similar response for e-prescribing as the WannaCry ransomware attack did for cybersecurity.
"We have got a mounting body of evidence… that this is no brainer," he said.
Lead author of the research, Aziz Sheikh from Edinburgh University, told HSJ that the findings supported other international studies showing the technology reduced prescribing errors significantly, saved money and freed up beds.
He said: "The data and the health economics stack up pretty favourable in comparison to other technologies."
The findings come amid renewed government focus of medication errors more broadly, which is one of the leading causes of hospitalisation in the NHS.
Writing on hsj.co.uk last month, health secretary Jeremy Hunt announced a new initiative aimed at reducing the medication error rate, including the uptake of e-prescribing.
Lord Carter singled out electronic prescribing in his 2016 efficiency review, recommending all trusts should have a pharmacy transformation plan that includes e-prescribing.
More recently, the government's life science industrial strategy recommended acute e-prescribing be made mandatory.
NHS England does not currently have up to date figures of acute e-prescribing rates in the health service.
However, several senior sources have told HSJ that most hospitals still use paper prescribing, despite an attempt to drive uptake under the National Programme for IT.
There is no national funding or target relating specifically to e-prescribing.
The 23 trusts that are part of NHS England's global digital exemplar programme are required to deploy closed loop electronic prescribing and medicine management.
Dr Sheikh said while e-prescribing was important, the full benefits were only realised if the entire prescribing path, from the pharmacy to the bedside, was electronic. The benefits were greater again when e-prescribing was linked with other electronic data such as test results and patient records.
Ensuring clinical uptake was also crucial, he said.
Responding to Dr McNeil's comments, a CQC spokeswoman said: "On inspection, we look at whether hospital trusts have effective systems in place to record and monitor prescribing and ensure medicines are safely managed. Where there is evidence that the use of electronic prescribing and medicines management systems are improving patient safety we will give this due regard when forming our judgements and ratings; however, we do not at present regard it as a mandatory requirement for a rating of good or outstanding."
An NIHR spokeswoman said the research had been accepted by BMJ Quality and Safety and it was awaiting guidance on when it would be published.
The findings are already being used to inform a new e-prescribing toolkit for NHS hospitals.