NHS developed app and website suspended after concerns raised at NHS England around clinical safety assurances
Developers stand by app and say service should resume this week
App and website used by half a million patients to access NHS services
Fierce competition among private health app suppliers for market share in the NHS
An NHS developed app and website used by half a million patients has suspended its service after clinical assurance concerns were raised at NHS England.
North East London Commissioning Support Unit confirmed it suspended its Health Help Now website and app earlier this month, at the request of NHS England, pending a conversation with the national body to demonstrate the system meets national clinical governance standards.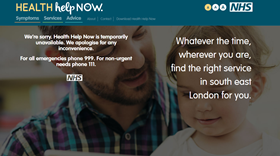 "We suspended service following challenges raised by one stakeholder on how Health Help Now meets the national standards," the CSU said in response to questions from HSJ.
The CSU said clinical safety was a priority and the app and website had a "robust governance model in place with local clinicians". It hoped to demonstrate the app and website met the required standards and resume service by 20 October.
Health Help Now was developed by CSU in collaboration clinical commissioning groups and providers in 2013. It is used by 28 CCGs and more than 500,000 patients, most of them in London and surrounding counties.
The app and website directs patients towards different local clinical services based on their symptoms, provides a directory of contacts for these services, and a "wallet" where users can upload health and contact information.
Concerns about the service have been raised amid renewed government focus on NHS patient apps and fierce competition among private app suppliers to gain market share in the NHS.
NHS England is currently piloting four "NHS 111 online" apps or websites, three of which are with private suppliers, with a view to rolling the most successful models across the country. Health Help Now is not involved in these pilots.
One of these pilots using a private app supplier, Babylon Health, is being trialled in London and provides some similar functions to Health Help Now.
HSJ understands concerns were raised within NHS England about Health Help Now in June because the CSU had not demonstrated that it met NHS Digital's clinical information standards for NHS IT systems.
The standards, published in 2013, include requirements such as appointing a clinical safety officer, monitoring clinical risks of the IT system and logging potential hazards.
Currently it is up to CCGs to ensure these standards are met for locally deployed apps, rather than NHS Digital. However, the standards are now being used nationally to determine access to NHS Digital's new app library.
The CSU said Health Help Now had been used by 500,000 patients with "no incidents" and it has a clinical safety officer. However, it did not confirm it has met the national standards.
The CSU said: "The CSU is keen to ensure the product is part of the nationally accredited national apps. Additionally, we are working to achieve clarify around any remaining questions around standards for health apps.
"Most apps so far have been developed by private sector firms and, once commissioned, will look similar to users but will have differing functionality. Health Help Now is the only NHS created app already in use across London and the South East of its type."
It said: "Health Help Now is assured locally by qualified clinical leads. We are unaware of any incidents since the product was launched in 2013. We have engaged and involved NHS Digital and NHS England from the beginning of the product design in 2013.
"We are working through the regulations with NHS Digital on any remaining requirements around clinical assurance."
NHS Digital confirmed Health Help Now has applied to be assessed against the national standards for NHS apps and entry to the app library. "We are not involved in the assessment of apps at a local level," its statement added.
An NHS England spokesman said: "As soon as we became aware of issues with this locally developed product we raised our concerns with those offering it and ensured the services were suspended. The responsible local health organisations, NHS Digital and app developers will be working to check and ensure their product matches the relevant national standards."
The story was updated on 17 October, 2017, after additional comment was provided by NHS England.