NHS England plans to introduce a new "information and technology" tariff to encourage the take up of new devices and technology by providers.
In a speech he is due to make at the NHS Confederation conference on Friday morning, NHS England chief executive Simon Stevens will unveil new tariffs that are due to come into force from next April.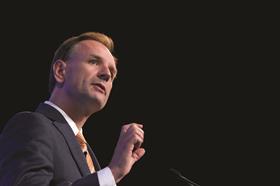 From July to September, technology firms are invited to bid to be included in the national tariff, something Mr Stevens says will make it easier for organisations to take up the products without negotiating a local price each time.
Between 10 and 15 are expected to be added to the national tariff system after an assessment.
Mr Stevens is expected to give the examples of a mobile heart monitor, an app that helps COPD sufferers and a device to measure patients' breathing in intensive care to stop them getting pneumonia from their ventilator.
He is due to tell delegates at the conference in Manchester: "The NHS has a proud track record of world firsts in medical innovation – think hip replacements, IVF, vaccinations and organ transplants to name just a few. But then getting wide uptake has often been slow and frustrating. Now – at a time when the NHS is under pressure – rather than just running harder to stand still, it's time to grab with both hands these practical new treatments and technologies.
"In the rest of our lives we're seeing the difference that innovative tech makes, and now the NHS will have a streamlined way of getting ground-breaking and practical new technologies into the hands of patients and our frontline nurses, doctors and other staff. By doing that, we can transform people's lives."
The government's accelerated access review into how the NHS adopts technology released an interim report in October. It has prompted some concern over the future of academic health science networks. The review is expected to publish its findings next month.
Stevens: Give any extra funding to social care over NHS
1

2

3

Currently reading

NHS England promises new technology tariff