Simon Stevens backs regional patient data schemes
NHS England chief suggests he will ask government for more funding for AI
Test beds extended for another two years
NHS England is to invest more in artificial intelligence over the next 12 months and will roll out new regional patient data schemes, chief executive Simon Stevens has said.
Speaking at the Health and Care Innovation Expo in Manchester today, Mr Stevens suggested he would make the case with government for further investment in AI over the coming year. He backed the recently published life sciences industrial strategy, which recommended greater use of patient data and "machine learning".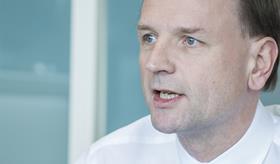 Mr Stevens said NHS England would work with NHS Digital to identify three of four regional "data innovation hubs", recommended in the strategy, each covering 3 to 5 million people.
The hubs would share anonymous and identifiable patient data regionally, and in some cases nationally, for direct care and care improvements.
"Today NHS England is explicitly nailing its colours to the mast in backing those recommendations," Mr Stevens said.
He said there were also "huge swathes" of the NHS that could be automated using machine learning or AI, singling out radiology, pathology and dermatology.
He said: "We need to get smart about how we use artificial intelligence and machine learning with those datasets to improve the quality of patient care."
As NHS England makes the case to the government for further funding, it would be seeking to invest more in AI in the next 12 months, he said. Mr Stevens gave no specifics about how and when this investment might be used.
He said: "Without doubt you will see, as we make the case for public investment and NHS investment in these areas, this will be one where NHS England will be backing that with our investment over the course of the next 12 months."
Mr Stevens also said the seven "test beds" announced in January 2016 would be funded for a further two years. The test beds are trialling different technologies to support care pathways, including diabetes and dementia.
Additional funding for the programme has not been decided, but Mr Stevens said he wanted to expand them from covering 4,000 patients to 15,000 in the next year.
Mr Stevens announced targets for the use of "biosimilar" medicines, which he said could save the system £300m but were not currently used consistently around the country.
"We need to get much more serious about exploiting the opportunity for the new biological medicines," he added.
Nine in 10 new patients will now be expected to have access to new biological medicine with three months of the medicine becoming available. Eight in 10 existing patients are also expected to transition to biosimilars within 12 months, where clinically appropriate.
Simon Stevens: Cut DTOCs to prepare for possible flu outbreak
1

2

Currently reading

NHS England will invest in artificial intelligence, says Stevens