NHS Improvement "has not been on the pitch enough" with NHS Digital and NHS England, chair tells conference
NHS does not have "underlying infrastructure in place" for artificial intelligence
Baroness Harding is pushing for NHSI staff to volunteer on the front line to change its culture
NHS Improvement needs to "engage more actively with the work of NHS Digital and NHS England" to speed up digital transformation in the NHS, the chair of the regulator has said.
Baroness Harding, speaking at the Health Foundation annual conference today, said: "In practice, NHS Improvement has not been on the pitch enough.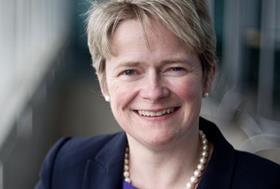 "We need to engage more actively in the work with NHS Digital and NHS England. The door is wide open and we need to walk through it."
She added: "The need for national arm's length bodies to collaborate is just as important at local care organisations.
"We are in the green shoots of looking at what they will look like in terms of greater collaboration with NHS Digital and NHS England."
Speaking more generally about technology and data in the NHS, Baroness Harding said: "We don't have a lot of the underlying infrastructure and data systems to have data transferability and ease of access [in the NHS].
"While it is hugely tempting to talk about the power of artificial intelligence, if we don't have underlying infrastructure in place, the AI has no data to do anything with."
Her comments follow the prime minister's pledge yesterday of millions of pounds to develop AI able to improve early diagnosis of cancer and chronic diseases.
"As a society we need to have a more open debate about the ethics of data. We need to treat it like human fertilisation and embryology was treated 30 years ago," Baroness Harding said.
She stressed that technology is changing "every element of the NHS [but] the secret to harnessing technology is about people".
"Technology can help [bring change] but human behaviour drives it. If you're leading through a crisis you have to go out and talk," she said.
Baroness Harding emphasised it is important leaders "role model the behaviour" they seek in their organisations.
She said: "I am trying to develop a volunteering scheme in NHS Improvement. I want to find a way to get everyone in NHS Improvement to spend at least a couple of days helping on front line.
"You have no idea how hard this is. My organisation can't see how this would make us better. I'm trying to change the culture of NHS Improvement."
She added that trusts also "can't see how this will be helpful".
She said: "I'm certain seeing is believing. The way we change culture throughout the NHS is seeing it how our patients see it."
The first joint board meeting of NHSI and NHSE takes place on Thursday. Baroness Harding said the move would not just be a structural change, but a cultural change as well, and will "take us some time".
"The chief executives and chairs are determined to do it; to set out a way of role modelling that has to be the answer at a local system level as well," she said.
It was announced earlier this year that NHSE and NHSI are creating seven "single integrated regional teams" and will decide by September which national roles and functions will be combined.
Baroness Harding said: "We are mindful that although our organisation in number are small but that impact could be large if we get our act together a bit better."
In response to a question from Health Foundation chief executive Jennifer Dixon on whether there would be a duel commitment to ensure quality improvement on the front line, Baroness Harding said NHSI has "regulatory tools in our toolkit, but using them is admission of failure".
She continued: "We have power to share best practice and this is more powerful than regulatory power. You won't hear me talking about NHSI as a regulator.
"The most powerful lever we have is people – in the leadership culture we inspire and encourage. The decision we directly take in appointing chairs is the most powerful lever we can pull.
"Another lever is a belief in quality improvement methods on the ground. You need the centre not to be telling you what to do, but creating the weather that encourages that behaviour."
Source
Health Foundation conference