NHS England still assessing safety and effectiveness of GP at Hand
Payment system may need to evolve for new digital services, says chief digital officer
GP at Hand patient list increases fivefold since October
NHS England's digital chief says the primary care payments model may need to "evolve" to accommodate new digital patient services such as the controversial GP at Hand.
Chief digital officer Juliet Bauer said NHS England was investigating the safety and effectiveness of GP at Hand – the partnership between a Fulham practice and GP video consultation company Babylon Health.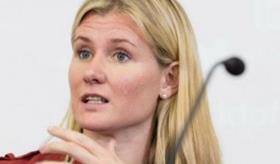 Ms Bauer said: "We feel reasonably confident it meets the basic safety threshold, based on the evaluation and work that we've done, but we continue to look at it.
"There are many people who, understandably, have questions about how [GP at Hand] could work. We totally know that [at NHS England]. We are doing substantial work to evaluate this in a very thorough way.
"I think there are going to be lot of different things coming out in the future that challenge how we think about paying for things in the NHS and we've got to be ready to evolve. Otherwise we won't continue to offer a service that people need us to."
GP at Hand offers NHS patients registered with the practice free video consultations, taking advantage of the national GP choice policy to sign up patients from across London.
It has plans to expand this model nationwide.
The practice been accused, largely by GPs and professional bodies, of "cherry picking" healthy younger patients, potentially increasing emergency attendances and undermining the model of GP payments.
In January, HSJ revealed that NHS England had ordered a temporary halt to the expansion of GP at Hand pending an investigation into some these concerns.
Since then, attempts by GP at Hand to add four sites in London for when a face to face consultation is required have faced opposition from clinical commissioning groups concerned they could destabilise existing primary care.
However, GP at Hand has proved immensely popular with patients since its initial expansion in November.
NHS Digital figures show that in the six months to March 2018, the practice more than fivefold with its patient list hitting 24,652. About four out of five registered patients are 20-39 years old and only a fraction are over sixty.
Hammersmith and Fulham Clinical Commissioning Group is currently tendering for independent evaluation of the service, which is worth up to £250,000.
Ms Bauer said while NHS England would monitor GP at Hand and other new digital providers in NHS, it was more focused on its own project to improve patient digital services such as NHS 111 online and the NHS app.
"We believe that companion digital services to the system is the vital one to get right," she said.
Ms Bauer said about 14 million people now had access to one of the four NHS 111 online products, including one provided by Babylon, which uses algorithms to triage patients without direct human input.
The plan is for 111 online to be rolled out nationally by the end of the year, eventually handling a third of all NHS 111 inquiries.
The NHS app, announced by Jeremy Hunt in September, is being piloted at two sites in London.
About 7,500 patients are using a version developed by eConsult in south east London and 11,000 patients are using a Babylon developed version in north central London.
Ms Bauer said the eConsult pilot, which has been running for longer, was already showing "encouraging signs" with 700 face to face GP appointments avoided since January.
Replacing several NHS branded digital tools with a single gateway app – covering 111, medical records, appointment bookings and online consultations – should help improve uptake of digital services, she said.
She added: "There's more we can do to give clarity for patients and I think some of the propositions we are launching should help with that. If there is a more obvious NHS proposition that helps people differentiate from other things in the market. If there are too many NHS propositions it can be confusing for the public."
NHS England has committed to making an app for patients available by the end of 2018-19.