Prescription lost after being printed by pharmacy and medicine never delivered to patient
Coroner says changes needed to system to address "real risk of future deaths"
Criticism of national system used to send more than 20 million prescriptions a month
A national electronic prescribing system used in the treatment of millions of people needs to make changes to prevent patient deaths, a coroner has said.
The comments were contained in a coroner's report, published on Monday, into the death of Professor Douglas Hodges, 83, of Nottinghamshire, who died on 3 April.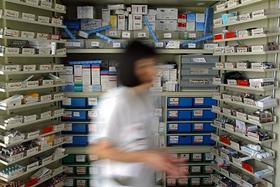 Professor Hodges died on natural causes but after an urgent prescription, sent by his GP to his pharmacy over NHS Digital's national e-prescribing system, was lost.
The prescription was received by Wells Pharmacy in Nottingham and printed but appears to have disappeared and Professor Hodges never received his medicine.
Nottinghamshire assistant coroner Heidi Connor said the lost script was unlikely to have contributed to Professor Hodges' death but she raised significant concerns about the prescribing system with NHS Digital, Wells Pharmacy Group and prescribing software company Cagedim.
In relation to NHS Digital, which runs most of NHS's national IT systems, her report said its electronic prescribing system was unable to distinguish between urgent and non-urgent prescriptions.
"A large number of prescriptions are downloaded every day by pharmacies. Urgent and non-urgent prescriptions look the same on the system. It is only at the labelling stage that any clinicians' comments can be seen," Ms Connor said.
She said: "Professor Hodges' case makes the case for… change very clearly, and I consider there is a real risk of future deaths if this is not addressed."
NHS Digital's national e-prescribing system runs on the NHS Spine and is used by nine of out 10 community pharmacies and GPs. Each month more than 20 million prescriptions are sent over the system.
NHS Digital intends the system to become completely paperless but currently pharmacies still need to download and print prescriptions for dispensing.
The coroner raised concerns about the Cagedim software, which did not seem to allow for labelling of urgent prescriptions.
She said the pharmacy had started to trial changes to reduce the risk of missing prescriptions, including checking whether any prescriptions have been printed but not labelled.
"I would like to know what the intention of the pharmacy is after the trial period ends and how it proposes to reduce this risk in future," Ms Connor added.
Responding to the report, Professor Martin Severs, medical director and Caldicott guardian at NHS Digital, said the organisation was working with its "delivery partners" on a response to the report.
He said: "It would be inappropriate to comment further until we have responded to the coroner on 7 December but we extend our sympathies to the family of Mr Hodges."
Cagedim and Wells Pharmacy Group were approached for comment.