Kingsley Manning says NHS Digital battled with the Home Office over sharing patient data repeatedly between 2013 and 2016
Former chair says while Theresa May was home secretary he was put under pressure to share data despite his legal concerns
New agreement allows for data to be shared to help trace illegal immigrants
Home Office and NHS Digital say they are "absolutely committed to transparency"
The former chair of NHS Digital has revealed how he repeatedly challenged the Home Office under Theresa May over the legality of sharing confidential patient information to trace illegal immigrants.
In an exclusive interview with HSJ, Kingsley Manning said that during Ms May's tenure as home secretary the Home Office put him under "immense pressure" to share patient data despite his concern there was "no legal basis" to do so.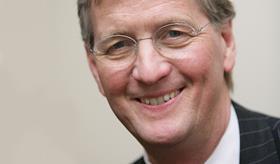 He told HSJ that the Home Office ignored his concerns. NHS Digital data shows the Home Office submitted 16,689 tracing requests between 2014 and 2016.
Mr Manning said: "We said to the Home Office: 'We need to understand what the legal basis of this is.' The Home Office response was: 'How dare you even question our right to this information. This is data that belongs to the public. It is paid for by the taxpayer. We should use it for public policy'."
Arguments of this nature took place repeatedly between 2013 and 2016, he said.
Last week, HSJ reported that NHS Digital and the Home Office have signed an agreement allowing confidential, non-medical NHS information to be shared to trace suspected illegal immigrants.
Mr Manning revealed that patient data, similar to the information now being shared under the agreement, had been passed on to the Home Office since "at least" 2005.
He said that when he launched a review to establish a clear legal framework for the data sharing there was an "enormous reluctance from both the Home Office and the Department of Health to clarify any element of this process".
"The Home Office view was that tracing illegal immigrants was a manifesto commitment. If I didn't agree to cooperate [with the sharing of patient data] they would simply take the issue to Downing Street," he said.
The new agreement, which came into effect from 1 January, has "maximised" Home Offices powers "to the absolute limit", Mr Manning said.
"All the Home Office has to say now is: 'We have lost track of this individual', and NHS Digital will have to hand over confidential patient information, such as the patient's name, gender, date of birth, last registered address and area details of their GP.
"There is no provision for transparency, no provision for oversight or scrutiny and there is no role for the National Data Guardian. Nor is there any provision to alert patients to the possibility that information from their NHS patient record could be passed on to the Home Office."
Mr Manning said he had been "deeply concerned" when he became chair of NHS Digital in 2013, then known as the Health and Social Care Information Centre, to discover that that the National Back Office, the department responsible for patient records, had been handing patient data to the Home Office since "at least" 2005.
"We were supposed to be a safe haven for patient data, and here we were giving out information on thousands of people a year to the Home Office, without any transparency or oversight," he added.
Mr Manning proposed that the number of tracing requests from the Home Office should be published for the first time. The Home Office was "pretty upset" about the idea, Mr Manning said. He persisted and NHS Digital's first public release of data was published in spring 2014.
The first three months' of data revealed the scale of the unofficial data exchange, with 2,867 tracing requests submitted by the Home Office.
The Home Office response to Mr Manning's data publication was "very strong, questioning why we should have any concerns. They took the view that the data belonged to the government, was paid for by the tax payer and should be used in the pursuit of public policy.
"I made it clear that NHS Digital needed to understand the legal basis for the exchange of data. We were in a position where we would have a relatively junior official from the Home Office ring up and say: 'On my say-so I'd like the information on the following person'. But as far as I could see there was no reporting of this, other than as a declaration."
Mr Manning commissioned an external review, chaired by Professor Maria Goddard, director of the Centre of Health Economics at York University. The review has been completed but not published.
"I came under immense pressure to leave matters as they were – particularly after the 2015 election when immigration became a fundamental political issue. The threat was that if we pursued this line of questioning we would be deemed to be an 'insufficient partner within the system," Mr Manning said.
"My key concern has always been that highly vulnerable people will be deterred from accessing the health system because they are worried that their information will be shared with the Home Office." This puts their health at risk and the health of the public at risk, since infectious diseases such as tuberculosis will become harder to treat, Mr Manning said.
A joint statement issued by the Home Office, the Department of Health and NHS Digital said: "We are absolutely committed to transparency and robust legal frameworks relating to data sharing.
"We have fully participated in all relevant reviews into sharing agreements, including the work by Professor Goddard for the NHS Digital Board on their National Back Office. The new memorandum of understanding which we have openly published makes it clear that no clinical information will be shared.
"NHS Digital has been transparent in the way that they have handled requests from the Home Office – publishing information about these requests going back almost four years."
Professor Goddard referred HSJ's request for an interview to NHS Digital's press office.