The picture on public health isn't the doom and gloom it's made out to be by those at the top, says Gideon Ben-Tovim, who sets out the big steps taken by his Liverpool PCT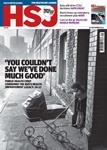 On 20 September 2012 the HSJ front cover ran: "You couldn't say we've done much good" – public health chief condemns the NHS's health improvement legacy."
The thrust of the article, an interview with the chief executive of Public Health England, was that although there may be some exceptions, public health has not flourished within the NHS and, by contrast, local government would provide a much more promising home.
Based on the experience of public health in the primary care trust homeland in Liverpool over the last 10 years or so, I would suggest that this characterisation is too negative, and I would like to balance the picture before the waters finally close over the heads of primary care trusts, and a false memory syndrome is embedded, suggesting that PCTs and the NHS failed to adequately promote and improve public health.
'Liverpool is currently the most deprived local authority in the country, with associated major health inequalities'
From our experience in Liverpool, I would argue that there is another truth, that in many parts of the country the PCTs have been innovative, ambitious, outward-facing and successful in supporting public health and in improving the health of the population.
My argument does not of course seek to challenge the current trajectory, and, speaking as a former city councillor of 21 and the current co-chair of Liverpool's shadow health and wellbeing board, I am deeply committed to the legitimacy, importance and potential of democratically elected local councils, and indeed I do hope public health will flourish in the city council environment, despite the huge, all-encompassing financial challenges local government is facing.
But the record needs to be put straight.
Liverpool is currently the most deprived local authority in the country, with associated major health inequalities. One of the top priorities when we established Liverpool PCT in 2006 (and its three predecessor local PCTs in 2002) was to tackle health inequalities. There was a strong board-level commitment to invest properly in public health, and to be innovative, ambitious and inclusive in the interventions that needed to be made.
I would argue that, from the point of view of outcomes, we have been successful. We have met the key 10-year "spearhead" targets that were set for us as an area of high deprivation, and the latest figures show that we have begun to narrow the mortality gap between us and the rest of the country.
Industrial-scale approach
Our early work around smoking (2003-06) demonstrated some of the key strands of our approach. Our aim was no less than to pass our own local legislation in Liverpool to ban smoking in workplaces and enclosed public spaces, and to lead the way as part of our involvement in the national movement around tobacco control.
We were delighted that, in the end, our work and that of many others led to the national legislation that meant our own local bill was not necessary.
This was an example of our "industrial scale" approach to public health, involving a high profile campaign with clear outcomes, the engagement of many partners outside as well as within the NHS, and significant investment.
The City Council/NHS partnership was fundamental to this initiative, which we have followed up with Smokefree Families, Smokefree Kids, Smokefree Sports, sustained investment in our Stop Smoking programme, an innovative Illegal Alcohol and Tobacco Unit targeting illicit and counterfeit goods, and our own youth advocacy movement DMYST, nationally and internationally acclaimed.
The outcome: a very significant reduction in the prevalence of smoking in the city, from 35 per cent in 2005 to 26 per cent in 2011.
After the very successful European Capital of Culture Year in Liverpool 2008, we unveiled a new, year-long campaign called Liverpool's Challenge – Lose a Million Pounds. This was a major Social Marketing initiative linked to our partnership brand Taste for Health as well as to our internationally acclaimed physical activity partnership Liverpool Active City, all seeking to build a city-wide health improvement movement.
Reaching out to all
We followed this with the designation by the PCT and the City Council of 2010 as a Year of Health and Wellbeing, launched by local athletics star Beth Tweddle. This partnership eventually included over 70 partners from every institution in the city, including the arts, the main football clubs, social housing sector, travel, fire and police authorities, the voluntary sector, the Chamber of Commerce, the parks, the schools, the college and the universities.
We have followed this with the current Decade of Health and Wellbeing partnership, aiming to make Liverpool by 2020 "a city where health and well-being is at the heart of our purpose, culture, planning and action – where communities and public and private organisations are all working together in a Liverpool that is more equal, well and green".
This in turn has involved the themed multi-partnership Year of Action on Cancer (2012) and this year the Year of Dementia Awareness, again including a range of partners.
These large-scale campaigns have shown the PCT and public health as outward-facing, ambitious, imaginative and innovative, with the ability to reach out to all the major sectors of the city and to engage communities from every section of society, who have proved open to health improvement and promotion despite the huge social disadvantages they are facing.
We have seen positive outcomes, such as the year on year increase in levels of participation in physical activity across the city, with higher increases in deprived neighbourhoods; evidence of the plateauing of obesity among the adult population and at key stage one, though still causing concerns at key stage two.
We have seen an overall decrease in the level of alcohol-related hospital admissions, linked to our various awareness-raising campaigns "Pssst!" and "What's Yours?", and reinforced by our Community Alcohol Service, and our large-scale brief interventions programme.
Older generation
Apart from these high-profile campaigns, we have developed a range of innovative and ambitious programmes across the life course, that try to tackle the underlying determinants of ill health.
Working with the city council and the fire service, the Healthy Homes programme has targeted thousands of households in the rented sector with a poor living environment, and has achieved major investment of over £4m pounds by private landlords to improve the warmth, safety and state of repair of the accommodation.
At the same time we have used the initiative to try to support tenants to maximise income, reduce fuel poverty and secure enhanced access to health, lifestyle and dental services. As a result of this programme, which has used our health budget in a different way, we have seen a significant reduction in winter deaths since the peak in 2008.
In the early years, we are developing interventions to tackle smoking in pregnancy, enhance breast-feeding levels, and we have achieved significantly improved vaccination and immunisation rates.
At school, we have played a significant role in supporting the Healthy Schools initiative: providing support for Free Fruit in key stage 2 which was ultimately bought into by schools; helping fund the Transforming School Food programme; pump priming the school swimming initiative which took Liverpool from one of the poorest performing cities in the country in getting children to swim before leaving primary school – 40 per cent in 2006 – to now being one of the top five authorities, at 87 per cent.
In the workplace, we designed and developed the Workplace Wellbeing Charter to engage employers in the all-round health improvement of their workforce, an initiative which has now been taken up as the official National Workplace Wellbeing Charter, supported by the Department of Health and Department of Work and Pensions.
For the older generation, we have developed the longstanding Active Ageing (Liveability) programme, a major award-winning scheme to improve the health of our elderly citizens through physical activity, reduced social isolation, benefit advice and enhanced health awareness.
Many of the programmes described above have been universal, but we have also sought to make our universalism proportionate, continually trying to target the more disadvantaged and vulnerable communities through dedicated teams and tailored interventions.
Extending life expectancy
Thus we created a Social Inclusion Team, with staff, many bi-lingual, able to work with a range of local minority communities and also hard-to-reach groups such as asylum seekers/refugees and the homeless, and including a team of BME mental health community development workers.
We have also worked with Liverpool University to establishthe Liverpool Institute for Health Inequalities Research to promote top-quality research into local health inequalities, which is closely linked to the commissioning process within the NHS.
A key aspect of the PCT's overarching strategy has been to develop Neighbourhood Health Centres, based in the 14 new primary care facilities we have developed across the city. These centres group practices together at a neighbourhood level (18 across the city) and the aim is for delivery of clinical care, public health/ill-health prevention and community engagement to be integrated at local level and to be based on a whole-population approach.
Our commitment to investment and innovation in public health is one key strand of the comprehensive approach Liverpool PCT has taken. We have sought to be a strong, supportive and effective commissioner, with the health economy in a broadly good financial position despite its complexity (NHS Merseyside works with 14 Trusts, Liverpool PCT with 8).
We have met all QIPP targets and have supported much excellence in quality among our providers and our academic health research partners. Of course there is still variance in performance, financial strength and quality of patient experience in hospitals and in primary and community care, which needs constant efforts towards improvement, in an increasingly challenging financial environment.
However, our track record in significant reductions in accident and emergency attendances, emergency readmissions, delayed discharges and outpatient attendances tell a very positive overall story, and we have also led some areas of clinical reconfiguration, back office rationalisation and system-wide carbon reduction.
Much still to do
The move of public health from the NHS to city councils has the opportunity to bring the whole weight of the local authority to bear on the health improvement agenda, and to give the strong civic leadership that elected local government can bring.
However, certainly in Liverpool's case, and I am sure many other cases across the country, I would argue that it has been possible for our very talented and committed public health team to flourish within the NHS, taking maximum advantage of the PCT's financial and operational flexibilities and freedoms to invest in innovation, and from that base to play a key leadership role in partnership with the city council and others in making significant health improvements.
Thus the latest evidence suggests that we in Liverpool have been successful in extending life expectancy, with the second highest rate of improvement among the core cities, and with an improvement that has exceeded the England average:
male life expectancy has increased by 3.6 years since 1995-7
female life expectancy has increased by 2.3 years
premature mortality from cardiovascular disease has more than halved since 1995
premature mortality from cancer has fallen by 19% since 1995.
Of course there is an enormous amount for public health to do in Liverpool, and nationally, to improve the health of the more disadvantaged sections of the population from the new base in local government, but I would suggest that we need an even-handed assessment of the health improvement legacy of the NHS. We have done some good.
Gideon Ben-Tovim is chair of Liverpool PCT and NHS Merseyside