Seven projects awarded "NHS innovation test bed" status
NHS England chief executive hails "major new drive to modernise how NHS delivers care"
Programme aims to combine different innovative healthcare interventions to increase their impact
Seven projects have been awarded "NHS innovation test bed" status under a flagship programme designed to bring together innovative technologies and the NHS, and integrate them to speed up their impact.
NHS England chief executive Simon Stevens is set to launch the first wave of test beds at the World Economic Forum in Davos today, as part of "a major new drive to modernise how the NHS delivers care".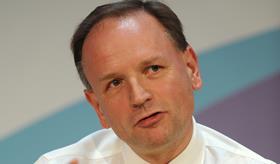 Mr Stevens will tell the audience in Switzerland: "Over the next decade major health gains won't just come from a few 'miracle cures', but also from combining diverse breakthroughs in fields such as biosensors, medtech and drug discovery, mobile communications, and [artificial intelligence] computing.
"Our new NHS test beds programme aims to bring together some of these most promising technologies in receptive environments inside the world's largest public, integrated health service."
The first wave of test beds includes five health and care projects and two "internet of things" test beds (see box below). They aim to address a wide range of issues including helping older patients, people with long term conditions and patients with mental health problems.
What are the seven test beds?
There are five health and care test beds:
Care City Health and Care: UCLPartners and innovators working to promote healthy ageing across a 1 millon population in north east London
Long Term Conditions Early Intervention Programme: NHS partners around Greater Manchester working with partners and the Greater Manchester Academic Health Science Network to help better identify and support patients at risk of long term conditions using new predictive techniques.
Lancashire and Cumbria Innovation Alliance: NHS organisations, including two new care models vanguards, working with partners to support the frail elderly and people with long term conditions to remain well outside of hospital and avoid unnecessary admissions.
Perfect Patient Pathway: Sheffield city region aims to create the "perfect patient pathway" for patients suffering from long term conditions, such as diabetes, mental health problems, respiratory disease and other chronic conditions.
RAIDPlus Integrated Mental Health Urgent Care: Birmingham and Solihull Mental Health Foundation Trust partner with Accenture to offer more proactive support for people at risk of mental health crisis.
Plus two "internet of things" test beds. The internet of things (IOT) is a computing concept that describes a future where everday objects will be connected to the internet and be able to identify themselves to other devices. The IOT test beds are:
Diabetes Digital Coach: a project led by the West of England AHSN in partnership with Diabetes UK and technology companies bringing together mobile health self-management tools (wearable sensors and supporting software) with the latest developments in connecting monitoring devices.
Technology Integrated Health Management: Surrey and Borders Partnership FT and a number of health technology providers to help people with dementia to live in their own homes for longer.
An NHS England statement said: "These collaborations between the NHS and innovators – including Verily (formerly Google Life Sciences), IBM and Philips – aim to harness technology to address some of the most complex issues facing patients and the health service.
"Frontline health and care workers in seven areas will pioneer and evaluate the use of novel combinations of interconnected devices, such as wearable monitors, data analysis and ways of working, which will help patients stay well and monitor their conditions themselves at home.
"Successful innovations will then be available for other parts of the country to adopt and adapt to the particular needs of their local populations."
NHS England told HSJ the projects will share £17m of central funding between now and 2017-18. The money is to be used primarily used for evaluation to create a robust evidence base so that successful innovations can be implemented at speed elsewhere.
Test bed partners may also add in further funding, an NHS England spokesman said.
NHS England is putting together a "national support package" to address issues such as helping establish evaluation metrics, solutions for information governance issues and other issues on which areas say they would like advice.
The programme, first trailed in the Five Year Forward View in 2014, received 500 expressions of interest from innovators following a prospectus being published last March.
Jenny Shand, executive lead of the Care City test bed, told HSJ: "Getting test bed status is a great opportunity and will allow us to really accelerate our progress and do more than would have otherwise been possible.
"A big barrier to getting innovative interventions more widely adopted is building a robust evidence base. The funding will help us get academic leadership and analytical support to do that, and put in place other parts of the core infrastructure for the project, such as bringing service users together and mobilising frontline teams to lead the implementation."
Mike Birtwistle, founding partner of consultants Incisive Health, said: "It's good news that the NHS is starting to look at the telehealth pitch again. It would be interesting to see what level of resources are being brought in from the private sector and other partners, and how fast they can get innovation off the ground within the test bed sites.
"Another interesting question is will the test beds make a significant contribution delivering the forward view or are they are down payment on the years after that?"