Leeds Teaching Hospitals Trust appoints Paul Jones as chief digital information officer 
Former CDIO Richard Corbridge slammed "excruciating" state of NHS tech when he left role earlier this year
Dr Jones will sit on the board and report to trust CEO
A hospital trust has appointed a new tech chief, months after his predecessor slammed the "excruciating" state of NHS IT as he stepped down from the role.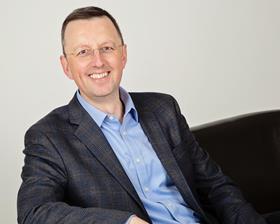 Paul Jones, who has previously worked in IT across the private and public sector, is expected to take on the chief digital and information officer job at Leeds Teaching Hospitals Trust in November. He will sit on the trust's board and report to chief executive Julian Hartley.
He replaces Richard Corbridge, who left the CDIO role at Leeds earlier this year to join the Walgreens Boots Alliance, saying "opportunities to impact healthcare have become easier to realise outside of the NHS".
In a 2018 interview, health and social care secretary Matt Hancock said all trusts should be asking "serious questions" of themselves if they do not have a CDIO on their board, who should report directly to the chief executive. In the same interview, Mr Hancock praised the Yorkshire trust for its approach to technology after developing a "good" in-house IT system.
However, as he departed the role, Mr Corbridge said digital is "too often" neglected across the NHS – prompting top leaders to "leave for the private sector".
Dr Jones will join the trust from BUPA, where he has held a series of senior IT roles since in 2016. He previously worked as chief technology officer for NHS England, group chief information officer at Serco and held a director post at KPMG Consulting.
Mr Hartley said: "This is an exciting time for Leeds Teaching Hospitals and Paul's skills and expertise will help us to build on the innovative work of our digital and informatics team in collaboration with partners across the city.
"This will drive forward our vision to provide the best specialist and integrated care for patients across our seven hospitals."
HSJ Digital Transformation Summit
The HSJ Digital Transformation Summit, taking place at the Crowne Plaza, Stratford-upon-Avon from 12-13 February 2020, unites 120+ senior leaders from across the provider, commissioning and STP landscape with those who have leveraged technology to drive tangible improvements across other industries, to discuss how to realise your digital visions in a cash-limited environment and scale up innovations to improve quality and outcomes for your local population.
Held under the Chatham House Rule, attendees will quiz NHSX and national figures on general policy direction and co-develop solutions to their local challenges with innovators from across the country. The summit is free to attend for senior NHS digital leaders.
Register your interest
Source Date
September 2019