Leicester trust pulls out of £30m EMRAD imaging system after several problems
Withdrawal raises questions over the future of the East Midlands Radiology consortium
The GE Healthcare system has suffered repeated break downs and delays
University Hospitals of Leicester Trust has pulled out of the £30m East Midlands Radiology consortium amid mounting concerns for patient safety and repeated system failures.
Trust managers made the decision in recent days after meeting with radiologists. There are ongoing issues with the GE Healthcare system, which staff from hospitals across the region have said repeatedly breaks down and causes long delays.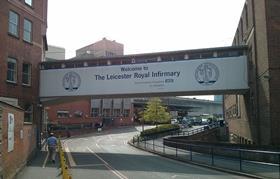 The decision by UHL is a major blow to the vanguard project, which was supposed to link eight hospital trusts' imaging systems to deliver savings and improve care.
It means one of the largest hospitals in the East Midlands will not be part of the integrated imaging system, which could have a widespread impact on the aims of the project.
EMRAD has been widely praised for the integration of imaging systems across hospital sites, but in recent weeks mounting concerns have emerged after doctors made public their frustrations with the system. In some cases, consultants were forced to send images on CDs via taxis for specialist advice and images could not be displayed.
Earlier this week, HSJ revealed the system had led to a backlog of 30,000 images at UHL, which was only eliminated in May. The trust had concerns about the risk of patient harm if the problems with the system could not be solved.
Announcing the decision to Leicester hospitals staff John Clarke, chief information officer and Andrew Furlong, medical director, said: "The implementation in UHL has been very difficult given our size and the length of time we had been using digital imaging, (as a very early adopter of PACS, we had a very large amount of historic images) and since go-live we have had a series of problems that have impacted on our clinical services.
"Given that this cannot be easily resolved in the short term and that our main concern is to ensure predictability and stability for our own clinical services, we intend to return to a known and trusted combination of systems and focus on delivering our core clinical requirements in a robust and predictable manner."
He said this meant the trust would have to "step back" from the EMRAD consortium adding: "This involves a significant amount of work for the trust, likely to take four to six months. Throughout this next phase our focus will be to ensure that we have a stable system that meets our core requirements."
An email to consultants at Nottingham University Hospitals Trust, which is the main host for the EMRAD consortium, said the decision left staff "disappointed".
The message, sent by David Selwyn, senior responsible officer for EMRAD, said: "We are disappointed at the news that Leicester has chosen to leave the East Midlands Radiology consortium and move away from the GE [Healthcare] single technical solution.
"NUH will continue to work in partnership with the other EMRAD consortium trusts and with GE to drive improvements in our imaging systems and network so that we can realise the benefits for our patients that were described at the outset of the project.
"We will continue to work closely with Leicester in the months to come, as they describe their replacement system and how this may impact and affect our patient flows, which includes major trauma, neurosurgery and cancer pathways."
GE Healthcare has apologised for the problems and has sent engineers to all trusts to try and resolve them.
Dr Tim Taylor, medical director of the EMRAD consortium, said: "It is disappointing to receive confirmation that Leicester intend to step back from the EMRAD Consortium NHS England Acute Care Collaborative Vanguard, in addition to stepping back from the technical system. We will work closely with the remaining consortium members and with our colleagues in Leicester in the weeks and months to come to determine how UHL can safely move forward on their own under revised arrangements without adversely impacting the patients we collectively serve across the East Midlands."
Source
Information provided to HSJ
Source Date
31 October 2017