Senior NHS figures raise concerns that £100m digital fund could be raided
Global digital exemplar money should have been allocated already but has not been released by DH
DH insist trusts will get funding "once business case has been through final approvals process"
Concerns that a high profile £100m global digital exemplar fund could be raided by ministers have been raised to HSJ, as NHS England remains locked in talks with them over its release.
The Department of Health confirmed that none of the cash expected to have already been allocated to the initial 12 acute trusts to be given global exemplar status in September had been released.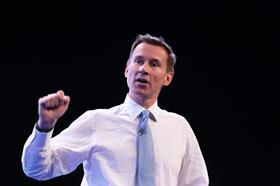 A DH spokeswoman insisted the funding would be released "once the business case has been through the final approvals process" this financial year or in "early 2017-18".
However, senior NHS sources said that concerns the funding could be cut, a fate suffered by four previous major NHS technology funds in recent years, were growing.
Speaking confidentially to HSJ, a number of senior sources with close knowledge of the exemplar programme confirmed the trusts had been expecting their allocations already, but they had still not been given any indication of when, or if, they would get the money or any reason for the hold up.
NHS England said it "remained absolutely committed to the programme", but the overall funding is a matter for the DH to decide.
HSJ understands the trusts vying for mental health digital exemplar status are also in the dark over their funding applications. Six trusts will get £5m each from the second tranche of the programme.
The 12 acute exemplar trusts were named as the key providers to spearhead the government's digital agenda and receive £10m each to accelerate their digital programmes by Jeremy Hunt in September.
It emerged earlier this year that a further four global exemplar projects would also be approved. Cambridge University Hospitals Foundation Trust and a joint proposal by Imperial College Healthcare Trust and Chelsea and Westminster Hospital FT comprise two of the bids, with a further two still up for grabs.
The concerns are partly fuelled by the fact all four flagship digital funds since NHS England was set up have been cut with varying degrees of severity.
HSJ revealed in October that the £900m estates and technology transformation fund for primary care will be reduced by almost £300m.
The £240m integrated digital care technology fund was decimated – cut to just £46m in 2015; the £260m "safer hospitals, safer wards" fund was cut to £196m in the same year; and the £100m nursing fund launched by the prime minister in 2012 was also reduced.
The 12 initial global digital exemplar acute trusts
City Hospitals Sunderland Foundation Trust
Royal Liverpool and Broadgreen University Hospitals Trust
Salford Royal Hospitals Trust
Wirral University Teaching Hospital FT
University Hospitals Birmingham FT
Luton and Dunstable University Hospital Trust
West Suffolk FT
Royal Free London FT
Oxford University Hospitals FT
Taunton and Somerset FT
University Hospitals Bristol FT
University Hospitals Southampton FT
A Department of Health spokeswoman said: "We remain committed to the first tranche of 12 or more global digital exemplars, which are a key component in making sure our NHS is fit for the future and delivering modern, personalised care to patients.
"The first tranche of funding will be made available in 2016-17 or early 2017-18, once the business case has been through the final approvals process."
NHS England chief information officer Will Smart said: "We remain absolutely committed to the global digital exemplar programme. The programme provides a mechanism to cultivate providers that are truly world-leading in their use of digital technologies to support the delivery of healthcare, and to develop 'blueprints' that will enable others to follow in a more rapid and cost effective way."