Firm removes claims about NHS partnerships from website and probes fake five star reviews after concerns raised by HSJ
Cera was set up by former senior fellow to Simon Stevens and is advised by Sir Nick Clegg
It was operational for over a year before registering with information regulator
Firm says patient care would "continue to be our top priority"
A much vaunted digital health firm that has partnered with Uber has been forced to remove incorrect claims about NHS partnerships from its marketing, and to launch a probe of fake five star reviews allegedly posted by employees.

Cera, a start-up founded by Mahiben Maruthappu, a former NHS England advisor, took the drastic action yesterday after HSJ presented the firm with a series of allegations about its conduct.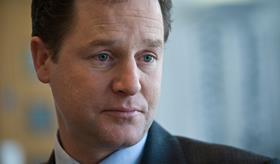 Dr Maruthappu previously worked as a senior fellow to NHS England chief executive Simon Stevens and currently serves in a voluntary capacity on NHS England's national innovation accelerator programme.
Cera is also advised by former deputy prime minister Sir Nick Clegg and other senior Whitehall figures.
The firm was hailed last year as an Uber style service that would speed up NHS discharges to social care and match patients to local carers.
It revealed it had signed a deal with Uber in March 2017 to transport patients and carers as part of its service, which focuses on providing home care for older people. At the same time it also announced a contract with the NHS's largest trust Barts Health Trust.
The firm is registered with the Care Quality Commission but has not yet been inspected.
A series of allegations have been raised to HSJ about Cera. These are:
It falsely claimed on its website to be delivering NHS funded care for several clinical commissioning groups.
Cera staff and their relatives posted fake or misleading reviews about the company's services on Facebook and review website Trustpilot.
The firm failed to secure its Information Commissioner's Office registration until February 2018, more than a year after it launched, meaning it was in breach of the Data Protection Act during this period.
The company immediately removed claims of partnerships with a number of NHS organisations from its website, which it said was "out of date", after HSJ presented it with evidence that its claims about working with a number of CCGs were not correct. Cera listed eight "partner" CCGs, five of which said they were not working with the firm.
The firm said it was "investigating thoroughly" accusations staff and relatives were posting fake or misleading reviews on Facebook and review website Trustpilot. Cera prominently displays its "five star excellent" rating with Trustpilot on the front page of its website.
Shortly after the allegations were presented to the company yesterday several suspicious reviews were removed from Trustpilot. The firm said it "had not removed or deleted any reviews".
HSJ has also confirmed the firm failed to secure its ICO registration until February 2018.
The firm did not deny any of the allegations put to it by HSJ concerning misleading marketing information, fake reviews or its late ICO registration. It said patient care would "continue to be our top priority". It received "regular positive customer feedback, which currently stands at a 95 per cent satisfaction rate. [The company takes] any allegations of false reviews extremely seriously."
Misleading information
Until yesterday, the firm's website said: "Cera works with the following NHS organisations to deliver high quality home care services: Brent, Harrow, Hillingdon, Haringey, Tower Hamlets, Barnet, Hammersmith and Fulham, Central London CCGs [and] East London, and Chelsea and Westminster Hospital foundation trusts."
This claim, along with NHS branding for three of the eight CCGs, was removed from the site.
The change followed HSJ raising the matter with five north west London CCGs on the list: Brent; Harrow; Hillingdon; Central London; and Hammersmith and Fulham.
A Freedom of Information Act request response from the five CCGs, dated 17 April and shared with HSJ, said: "None of the CCGs have any partnership [or] contractual arrangements with Cera Care."
A spokeswoman for the five CCGs said: "The CCGs will be approaching the company about correcting the information on the website… We can find one single journey where Cera was used by the CCG, but we have no plans to use them again."
Fake reviews
Meanwhile, online reputation firm KwikChex uncovered evidence senior staff and relatives had posted reviews without declaring an interest, and employees had created fake profiles to post reviews on Trustpilot and Facebook.
KwikChex co-founder Chris Emmins said the evidence suggested "at least half the five star reviews on Facebook were fake – that is, false identities, placed by management, ex-employees or associates".
Fake reviews of this nature contravened guidelines set out by the Competition and Markets Authority and the Advertising Standards Authority, Mr Emmins said.
HSJ has seen the names of employees and firm evidence the reviews were fake but has chosen not to publish names of those involved. A number of false reviews were removed after HSJ contacted the firm.
The firm was officially launched by Dr Maruthappu in November 2016.
The doctor turned entrepreneur was previously a senior fellow to Mr Stevens' office and retains a voluntary advisory role at NHSE on the NHS Innovation Accelerator programme board, an initiative designed to spread healthcare innovations across the NHS, which he helped launch.
The firm said Dr Maruthappu ceased paid employment at NHSE ahead of the official launch and he had been transparent about his business interests throughout
Cera's response
On NHS partnerships
"We can confirm that in 2018 we have delivered NHS CCG funded care with the following CCGs: Lambeth, Tower Hamlets, Haringey, Enfield, and previously had partnered with CCGs including Brent, Harrow and Hillingdon and East London Foundation Trust, in addition to marketing in hospitals including: Central Middlesex, West Middlesex, Northwick Park, Royal Marsden, Whittington and Barnet and Chase Farm. We note that our website was not fully up to date with these materials and are rectifying it – this is in part due to variable contractual expiry dates. We are happy to provide relevant documentation."
Reviews
"Our client satisfaction rate at present is 95 per cent as per automated feedback from users, based on their interactions with the company. We take any allegations of false reviews extremely seriously and these will be investigated thoroughly and dealt with strictly. We have no tolerance for this.
"We are a CQC registered homecare provider that uses state of the art technology to improve quality and efficiency, matching those needing homecare with a highly experienced carer, at the right time, in the right place. Since launching in November 2016, we have made unprecedented progress in care, winning numerous awards.
"The company has not removed or deleted any reviews. If they have disappeared that is not as a result of any action of the company nor has the company been contacted by any of the ratings websites."
On its relationship with Uber
"We can confirm that around 55 to 60 trips a month are delivered with our partnership with Uber. As stated in the press last year, the Uber partnership is distinct from those with the NHS. The use of Uber has been either funded by Cera or by individual clients themselves, not the NHS."
NOTE: This piece was updated on 26 April to reflect that Dr Maruthappu serves in a voluntary capacity on NHS England's national innovation accelerator programme, and not an advisory role to NHS England as previously stated.