A nationally renowned specialist trust has been rated outstanding following an inspection by the Care Quality Commission.
The Christie Foundation Trust, which specialises in cancer care, has been given the highest possible overall rating.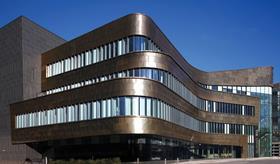 The trust was rated outstanding in four domains: well led, responsive, caring and effective. It was rated good for safety.
Surgery, medical care, end of life care, radiotherapy and chemotherapy services were all rated outstanding. However, surgery's top score was in spite of being rated requires improvement for safety.
All other services were rated good.
The Christie is the largest single site cancer centre in Europe. It serves a population of 3.2 million in the North West, but also treats patients from across England for some specialised services. It is part of a national acute care collaboration vanguard focused on cancer with the Royal Marsden and University College Hospitals London FTs.
Inspectors highlighted a number of examples that contributed the trust's outstanding rating, including:
Surgical teams offering bespoke multi-speciality treatments to patients, which improved outcomes and survival rates.
The trust's programme of "alternative and complementary therapies" that helped patients with their wellbeing.
End of life care, which is being used as a model for other cancer centres.
An optional physiotherapy lymphedema service for breast cancer patients.
Chief inspector of hospitals Professor Sir Mike Richards said: "Staff are highly motivated and speak positively about the care they provide, and what they told us is a reflection of the friendly and open culture at the trust.
"The trust is also helping to shape the future of cancer care. Nationally it is well known for the contribution made by patients and staff to some very important clinical research projects. It is also impressive that the trust has established The Christie School of Oncology to provide specialist education for students and health professionals.
"Our inspectors were struck by the commitment to excellence that filters through every area of the trust. This includes investing in the latest technology and using clinical research to develop new treatments to secure the best outcomes for patients.
"This is a clear example of a trust leading in its field, and I commend all the staff on their outstanding rating."
Source date
18 Novemebr 2016