Dudley Group FT tells staff overspending puts its STF payments at risk
Trust has introduced spending controls as the cost of agency staff doubles this year
Over spending means purchasing a new electronic patient record system is at risk
Staff at a Midlands acute trust have been told to stop overspending as it is threatening the trust's receipt of £10.5m of sustainability and transformation funding.
A message to staff at The Dudley Group Foundation Trust, leaked to HSJ, said at month six the trust's agency spending was set to double from £5m last year to £10m this year, partly due to 100 registered nurse vacancies at the trust.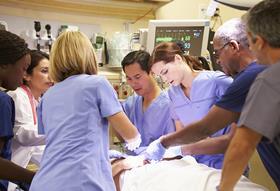 Finance director Paul Taylor said the level of overspending meant the trust, which has a control total target deficit without STF of £790,000 at the end of 2016-17, may not get the STF payments for meeting its quarterly targets. He said this could put at risk the purchase of a new electronic patient record system, and a community imaging and hybrid theatre projects.
To curtail spending the trust has imposed a ban on agency healthcare assistants where there is no safety risk. This has resulted in the number of agency HCAs on wards dropping from 100 a week to less than 10.
The trust has also frozen all non-frontline appointments and banned hospitality such as food and drink for meetings, interviews and visits. All non-clinical spending will only be approved if signed off by a director.
Minor estate works will be delayed until 2017-18 if it does not pose a clinical or safety risk. The trust has a private finance initiative contract that means most estate work is a revenue cost.
Mr Taylor wrote: "Overspending is putting our £10.5m sustainability and transformation fund money in jeopardy. We need this injection of money to help secure the financial sustainability of our trust.
"Without this money it will be more difficult to invest in future schemes such as the electronic patient record, the hybrid theatre, and community imaging. We have therefore taken the decision to stop some spending immediately to try to put us back on track. We need to find £350,000 per month to make sure we get our STF money, which against the trust turnover of £320m per year is not unachievable so we need everyone to hold the purse strings as tightly as is safe to do so until April next year."
Mr Taylor told HSJ this week the trust had got back on track and he was more confident than when the message was sent.
He said: "Our underlying position, without the STF, is to be no more than £800,000 overspent and when we looked at the way the agency spend was going up there was a danger we were going to get to £2m or £3m. Our forecast agency spend is probably around £10m or £11m.
"At the end of September we spent £1.2m on agency staff and that was higher than we have ever spent. It has been rising since September 2015. We have about 100 nurse vacancies and that is where the biggest element of the problem is and we are doing what we can to recruit."
He said emergency activity had risen by 5 per cent year on year, which wasn't planned and the trust has kept winter wards open in the summer adding.
Mr Taylor said the situation had improved in October and November with the trust halving the number of agency shifts. It has also taken on 30 new graduate nurses.
Source
Information supplied to HSJ