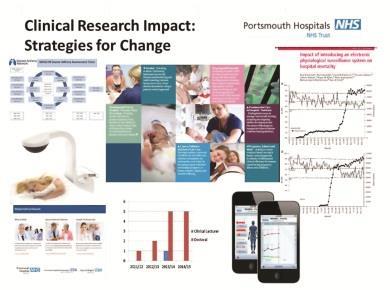 Finalists
Portsmouth Hospitals Trust – winner
Danetre Medical Practice – highly commended
Birmingham and Solihull Mental Health Foundation Trust
Birmingham Women's Foundation Trust
Burton Hospitals Foundation Trust
Homerton University Hospital Foundation Trust
Manchester Mental Health and Social Care Trust
Solent Trust
Southern Health Foundation Trust
The Pennine Acute Hospitals Trust
Portsmouth Hospitals Trust: Strategies for change, impact and quality improvement
Judges praised the "ambitious and impressive programme" that was impacting "locally and beyond".
A series of initiatives to boost research activity has helped Portsmouth Hospitals Trust improve the quality of care it provides to patients.
A clinical outcomes research group was established to create a centre of research excellence on the use of clinical outcome data to improve patient care. Working in collaboration with the University of Oxford, the group won a £1.9 million research grant from the Wellcome Trust.
A dedicated personal and public involvement officer focused on corporate level communication, using social media and marketing through a tailored website. An internal mystery shopper scheme was implemented, and Twitter used to raise awareness.
A research clinic space was created with waiting and quiet areas, and a research taxi service enhanced patient recruitment, experience and access. Training has been offered to all professional groups.
Research areas include fundamental care; dementia and compassionate care; public health and long-term conditions; and maternity care.
The trust has secured investment from industry in the local health economy of £1.8m over the next four years.
Concrete results from research activity include reduction of the time taken to diagnose severe asthma; more accurate breast cancer radiotherapy; and new treatment options for patients with pleural effusions.
Other finalists' projects:
Danetre Medical Practice – Engaging with the research community for it to become a core service of primary care
Birmingham and Solihull Mental Health Foundation Trust – Research and innovation division
Birmingham Women's Foundation Trust – Research and development department
Burton Hospitals Foundation Trust – Developing and promoting clinical research trials
Homerton University Hospital Foundation Trust –
Manchester Mental Health and Social Care Trust - Dementia therapeutics research programme
Solent Trust - A research-active clinical workforce
Southern Health Foundation Trust - Research and development department
The Pennine Acute Hospitals Trust - Clinical research and development team