The winners of the 2016 HSJ Awards will be announced tonight, and to celebrate we are giving every reader the opportunity to download free best practice case studies from some of last year's winning projects.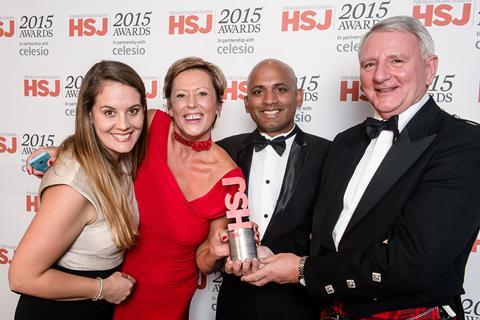 Winners show off their trophy at the 2015 HSJ Awards

For 35 years the HSJ Awards have recognised, celebrated, and promoted the finest achievements in the NHS and showcased them to the service's most influential leaders.
Over that time the HSJ Awards have grown to become the most sought after accolade in British healthcare – and very probably the largest awards programme of its type in the world.
The 2016 HSJ Awards feature 24 categories, including a special award celebrating the contribution to the NHS by staff from elsewhere in the EU.
To celebrate we are giving HSJ readers the opportunity to download detailed case studies of a selection of winning projects from the 2015 HSJ Awards.
These are just five of the 1,200 – and rising – case studies on HSJ Solutions, which is the largest collection of validated best practice in the NHS.
HSJ Solutions is a unique database made up of all shortlisted, highly commended and winning entries to our awards (HSJ Awards, HSJ Value Awards and Patient Safety Awards) since 2013.
Every solution featured in this database has been validated by experts – independently judged by a series of industry experts – and summarised and packaged by our editorial team.
You will find hundreds of examples of best practice, from how an acute trust effectively managed demand in its emergency department to how a CCG saved £100,000 a year by focusing on one area of spending.
To download your sample content, simply enter your details here.