A Newcastle MP has called on his local acute foundation trust to be more transparent and give a "reasonable explanation" as to why its chief executive, Sir Leonard Fenwick, is on extended leave.
Newcastle upon Tyne East MP Nick Brown told HSJ he will to write to Newcastle upon Tyne Hospitals FT chair Kingsley Smith to demand an explanation as to why Sir Leonard suddenly went on extended leave last week.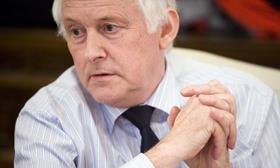 The FT's chair and non-executive directors confirmed on 12 January that Sir Leonard's duties will be covered by business and development director Louise Robson and medical director Andrew Welch.
It is not clear why Sir Leonard, who is the NHS's longest serving chief executive, has taken extended leave, nor if or when he will return.
Last week the trust issued a short statement but told HSJ it was not saying anything further.
Mr Brown said he would have expected to have been given an explanation by now, and he still did not know why Sir Leonard had gone on extended leave.
He added: "I am not sure what the situation is or even what the current status of Sir Leonard is, but I would like some transparency and a reasonable explanation, and assurance that this is not harming the work of the trust. It shouldn't be a mystery at all.
"I am going to write to the chair asking for a full explanation, asking what the present situation is with senior management at the trust.
"I have known Sir Leonard for 40-odd years and think very highly of him. He has been an outstanding public servant but I don't know what the current circumstances are."
NHS Improvement issued a short statement on 13 January saying the chair and non-executive directors were holding "the executive" to account on "behalf of patients and taxpayers".
The statement said the matter was being dealt with through the "proper channels" and NHS Improvement chief executive Jim Mackey, who is on secondment from neighbouring Northumbria Healthcare Foundation Trust, had "recused himself from any involvement" in the issue.
NHS Improvement said it would be "inappropriate" to comment further.
Sir Leonard has been one of the NHS's most prominent leaders.
He joined the NHS as a management trainee in 1965. He became commissioning manager for the former Freeman Road hospital in the 1970s, before being made chief executive of the newly founded Freeman Group of Hospitals Trust in 1977.
A merger of the three teaching hospitals in Newcastle led to the establishment of Newcastle upon Tyne Hospitals Trust, which became a foundation trust in 2006.
Sir Leonard guided the organisation to become the first major teaching hospital to be rated outstanding by the Care Quality Commission in June 2016.
Source date
17 January 2017