Longest standing NHS chief executive sacked following disciplinary
Sir Leonard Fenwick had led Newcastle upon Tyne Hospitals for 39 years
Panel found allegations of inappropriate behaviour, use of resources and "range of governance issues"
Successor will be appointed by a new chair 
The NHS's longest serving chief executive has been sacked for gross misconduct, it has emerged today.
Sir Leonard Fenwick has been dismissed from Newcastle upon Tyne Hospitals Foundation Trust after a disciplinary panel found "allegations relating to inappropriate behaviour, use of resources and a range of governance issues were proven", a trust statement said this morning.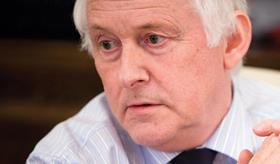 The statement added: "The panel took the decision to dismiss Sir Leonard from his role as chief executive on the grounds of gross misconduct.
"This decision was not taken lightly, but made after very careful, lengthy and detailed consideration of the investigation report and Sir Leonard's response to the allegations."
Sir Leonard appealed the decision to dismiss him and a second panel was convened, but the trust said it upheld the original decision.
It has not said what the inappropriate behaviour, use of resources or governance issues were.
Sir Leonard was placed on extended leave in January while an investigation into "serious issues" was carried out.
HSJ revealed Sir Leonard had a disciplinary hearing in May, amid allegations of bullying by a former senior employee.
HSJ understands the original disciplinary was held over two days in May, while the appeal was heard last month.
The trust said it was also required to report a number of concerns to NHS Protect, the counter fraud and security management service. However, it added it would be "inappropriate" to make further comment at this time.
The accusations came to light in a letter sent to the trust's chair Kingsley Smith alleging Sir Leonard had:
engaged in bullying and abusive behaviour towards an employee in public on multiple occasions;
read or "interrogated" staff emails; and
made inappropriate comments concerning a member of staff's daughter and a senior person in the NHS nationally.
The letter, seen by HSJ, was also sent to the trust's human resources director within days of the employee leaving the organisation in January. The trust confirmed Sir Leonard had gone on extended leave on 12 January.
In March, the trust said an independent HR specialist was carrying out an investigation into "a number of very serious issues raised by different sources that were brought to the attention of the trust".
In apparent reference to the suggestion, he had been "'pushed out' of his job after he suspended senior consultants who used hospital premises to have sex", the March statement said: "The trust strongly refutes any suggestion that this current situation is in any way connected to the handling of any internal disciplinary matter that has featured heavily in a number of recent newspaper articles."
HSJ has attempted to contact Sir Leonard over the last few months but has not received a response.
His role has been filled by medical director Andy Welch and executive director of business and development Louise Robson, who will continue to act as interims until a new chief executive is appointed.
HSJ understands Mr Smith will remain in post until a new chair is appointed, then it will be the duty of his replacement to appoint a new chief executive.
Sir Leonard joined the NHS as a management trainee at 18 in 1965. He became commissioning manager for the former Freeman Road Hospital in the 1970s, before being made chief executive of the newly founded Freeman Group of Hospitals Trust in 1977.
A merger of the three teaching hospitals in Newcastle led to the establishment of Newcastle upon Tyne Hospitals Trust, which became a FT in 2006.
Last year the trust was rated "outstanding" by the Care Quality Commission – including in the well led domain.
HSJ also revealed in March that Sir Leonard applied to be considered for the role of trust chair. Mr Smith was due to retire in September last year but NHS Improvement said it had "very real concerns" about the prospect of Sir Leonard taking over. No appointment was made and Mr Smith's term was extended.
HSJ also understands the trust approached NHS Improvement for advice in relation to Sir Leonard at the beginning of the year but did not ask it to make a regulatory intervention.
The regulator said its chief executive Jim Mackey – on secondment from neighbouring Northumbria Healthcare FT – had "recused himself from any involvement" in the issue.
Source date
17 August 2017