Dismissed Newcastle chief executive says he is victim of 'witch hunt'
Sir Leonard Fenwick was sacked this week for gross misconduct
Considering appeal against the decision
Sir Leonard Fenwick has said he is considering whether to fight his sacking for gross misconduct, claiming he is the victim of an 'orchestrated witch hunt'.
He has also suggested NHS Improvement chief Jim Mackey wanted to take over the running of his former trust.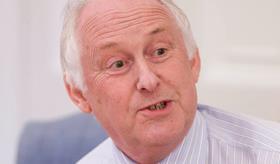 It emerged yesterday that Sir Leonard, who had been the longest serving chief executive in the NHS, had been dismissed by the Newcastle upon Tyne Hospitals Foundation Trust.
Sir Leonard told BBC Look North last night he had a "great deal of evidence" he had been pressured to retire or leave the trust last year and this year. In an undated clip broadcast yesterday, Sir Leonard suggested Mr Mackey, the Northumbria Healthcare FT chief who is coming to the end of a two year secondment at NHSI, wanted to run the Newcastle trust.
When asked if he would fight the decision to sack him, he said: "I am giving that due consideration."
Sir Leonard added: "I referred to this as an orchestrated witch hunt. There's a great deal of evidence to demonstrate throughout 2016 and into 2017 that there has been pressure against me to either retire or strike an arrangement to leave the organisation."
The BBC showed a clip of Sir Leonard telling its reporter "our friend in NHS Improvement is going to be coming back. He wants to take this place on, it's all getting facilitated."
Mr Mackey is returning to Northumbria Healthcare in October. NHSI declined to comment on Sir Leonard's remarks.
Newcastle said yesterday Sir Leonard had been dismissed after a disciplinary panel found "allegations relating to inappropriate behaviour, use of resources and a range of governance issues were proven".
The trust also said it had referred several "concerns" to the NHS counter fraud service NHS Protect.
Sir Leonard said he did not believe there was a valid claim. "I think this was building together a catalogue of opportunity to undermine me," he added.
When Sir Leonard was placed on extended leave in January, NHSI said Mr Mackey had "recused himself" from any involvement in the issue.
But HSJ also revealed Sir Leonard applied to be considered for the role of trust chair when Kingsley Smith was due to retire in September 2016. NHSI said it had "very real concerns" about the prospect of Sir Leonard taking over. No appointment was made and Mr Smith's term was extended.
Sir Leonard was placed on extended leave while an investigation into "serious issues" was carried out. He had a disciplinary hearing in May, amid allegations of bullying from a former senior employee.
Sir Leonard, who joined the NHS in 1965, denied last night he was a bully and reiterated claims he had been pushed out for exposing and suspending senior consultants who used hospital premises to have sex, a claim the trust denies.
Sir Leonard said: "My face doesn't fit and 2016 was a year when I did step across the board in one or two areas as an accountable officer to Parliament. In particular, in relation to the behaviour of senior staff."
The trust has not revealed which complaints against Sir Leonard were upheld. However, a senior employee wrote to Mr Smith accusing Sir Leonard of:
bullying and abusive behaviour towards an employee in public on multiple occasions;
reading or "interrogating" staff emails; and
making inappropriate comments concerning a member of staff's daughter and a senior person in the NHS nationally.
HSJ has attempted to contact Sir Leonard over the last few months but has not received a response.
His role has been filled by medical director Andy Welch and Louise Robson, executive director of business and development, who will continue to act as interims until a new chief executive is appointed.
HSJ understands Mr Smith will remain in post until a new chair is appointed, then it will be the duty of his replacement to appoint a new chief executive.
Source
BBC interview; information provided to HSJ
Source date
17 August 2017