Newcastle upon Tyne Hospitals FT confirms chief executive Sir Leonard Fenwick is on extended leave
Sir Leonard is the longest serving chief executive in the health service
Unclear why Sir Leonard has taken leave, or when he will return
The NHS's longest serving chief executive, Sir Leonard Fenwick, is taking a period of extended leave, Newcastle Upon Tyne Hospitals Foundation Trust's board have confirmed.
The chair and non-executive directors of the trust confirmed yesterday Sir Leonard's duties will be covered by business and development director Louise Robson and medical director Andrew Welch.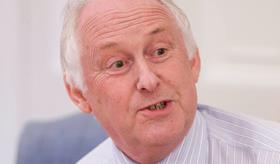 It is not clear why Sir Leonard, who has been a chief executive for nearly 40 years, has taken extended leave, nor if he will return.
However, NHS Improvement issued a statement to HSJ today, saying that the chair and non-executive directors were holding "the executive" to account on "behalf of patients and taxpayers".
The statement added the matter was being dealt with through the "proper channels" and that NHS Improvement chief executive Jim Mackey, who is on secondment from neighbouring Northumbria Healthcare Foundation Trust, had "recused himself from any involvement" in the issue.
It said: "These matters are being dealt with through the proper channels – with the chair of the trust board and non-executive directors holding the executive to account on behalf of patients and taxpayers.
"Therefore it would be inappropriate for us to comment further at this time." The nature of the "matters" referred to is as yet not confirmed.
NHS Improvement added: "We will be working to support Louise Robson and Andrew Welch, in their new duties, so that patients continue to get high quality care from the trust during this difficult period."
Sir Leonard has been one of the NHS's most prominent hospital chiefs.
Sir Leonard joined the NHS as a management trainee at 18 in 1965. He became commissioning manager for the former Freeman Road hospital in the 1970s, before being made chief executive of the newly founded Freeman Group of Hospitals Trust in 1977.
A merger of the three teaching hospitals in Newcastle led to the establishment of Newcastle upon Tyne Hospitals Trust, which became a foundation trust in 2006.
Sir Leonard guided the organisation to become the first teaching hospital to be rated outstanding by the Care Quality Commission in June last year.
He is known for running a high performing organisation, over which he has tight control, and being a vociferous proponent of its independence and its future.
In a statement sent to local media, the trust said: "The chair and non-executive directors of the Newcastle upon Tyne Hospitals Foundation Trust have today confirmed that the trust chief executive, Sir Leonard Fenwick, is taking a period of extended leave.
"During his absence, Louise Robson, business and development director, and Andrew Welch, medical director, are covering Sir Leonard's responsibilities."
Story updated at 11.25am to include NHS Improvement statement
Source date
13 January 2017