An NHS trust has asked for local GPs to work in its accident and emergency department because of the "significant pressure" it is facing.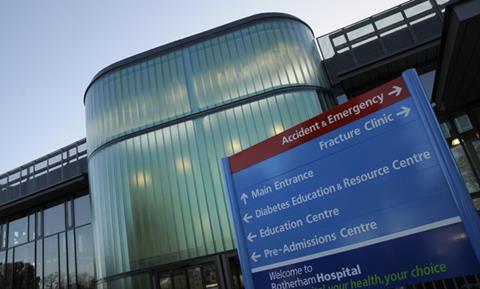 Rotherham NHS Foundation Trust
The Rotherham Foundation Trust has said it will pay local GPs up to £95 an hour to work in its A&E to help tackle an increase in patient attendances.
A message sent by Rotherham Clinical Commissioning Group to member GPs on Monday said the trust was facing "significant pressure" and "urgent assistance" was required.
It sought any GPs "willing to consider working within A&E over the next four weeks to support the trust in getting to a manageable position".
The email said this would be additional work and must not impact on the GP practice.
The doctors would be working for the trust in minor, rather than major, injuries area of the A&E "and you will only be expected to act within your competence".
The email added: "We have advised to pay £95 per hour to anyone who is able to support the trust."
Trust chief operating officer Chris Holt told HSJ the emergency department had been facing considerable pressure, in line with other hospitals across the country.
He said: "A real positive has been the fantastic response from all our clinical and non-clinical colleagues, as well as additional support from our partners across Rotherham.
"One such response has been from our colleagues in primary care and at the CCG, who have offered to provide primary care input into the A&E department and to help direct patients to the most appropriate services.
"This will be for certain patients who meet strict criteria and who don't have urgent, life threatening illnesses or injuries. This is a great example of how the system is responding together to what is a very challenging time."
Mr Holt said the rate of pay was consistent with the locum price caps set by NHS Improvement.
Source
Information provided to HSJ