Royal Bournemouth and Christchurch Hospitals Foundation Trust is Dorset CCG's choice for new "major emergency hospital"
Poole Hospital Trust, which also wanted the designation, stands to lose its A&E and become a "planned hospital"
CCG believes Bournemouth option would be £42m cheaper and offer better patient access
STRUCTURE: Royal Bournemouth and Christchurch Hospitals Foundation Trust has been chosen over Poole FT to be the "major emergency hospital" in east Dorset.
If the Dorset Clinical Commissioning Group's plans go ahead then Poole will lose its accident and emergency department and be repurposed as a "major planned hospital" with a 24 hour urgent care centre.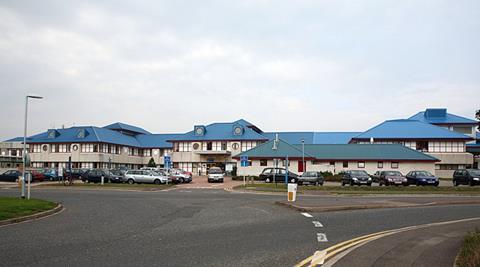 The CCG believes centralising emergency and planned services on different sites in the east of the county will help to plug an estimated £158m funding gap by 2020-21, improve outcomes and pave the way for seven day services.
However, Bournemouth and Poole both argued they were the best candidate to be the emergency centre.
According to the CCG's May board papers, the two trusts scored the same on the care they could offer and for workforce, research and education, and "deliverability" criteria.
Bournemouth was judged to offer better access for patients, and analysis by Capita into the cost of the two options concluded that the trust would require £147m to become a major emergency hospital, while Poole would need £189m.
While Dorset CCG has said an emergency hospital at Bournemouth and a planned hospital at Poole is its preference, the final decision will be made next year after public consultation.
The CCG will also have to make sure that any reconfiguration does not breach undertakings which were made to the Competition and Markets Authority after an attempted merger of the two trusts was blocked in 2013.
Tony Spotswood, Royal Bournemouth's chief executive, said: "We have worked with the CCG and our colleagues across the county to get to this stage of the [clinical services review] and will continue to do so as we know there is still a lot to be done leading up to the public consultation later this year."
Robert Talbot, Poole's medical director, said the trust was "clear about the need for change in Dorset's health system" but "disappointed" with the CCG's recommendation.
"We believe that the number of key services already provided here, for example our designation as east Dorset's unit for emergency and trauma surgery, as well as our central location and ability to take on the role of Dorset's major emergency hospital sooner, placed us in an extremely strong position.
"We also believe that the increased costs associated in choosing Poole Hospital form just a small fraction of the county's total health spend over the next two decades," he said.
Source