Royal Marsden FT selling naming rights for new treatment and research centre
Trust is seeking funding for four storey building in outer London
Trust yet to be paid for significant amount of private work
A specialist hospital is looking for £15m for the naming rights of a new treatment and research centre.
Royal Marsden Foundation Trust, a world renowned cancer hospital, has been advised to set the price of naming its new clinical care and research centre at £15m, its latest board papers reveal.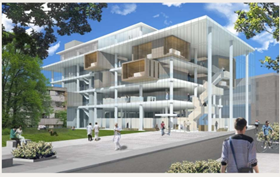 The papers said the trust was looking for the Royal Marsden Cancer Charity and other sources to fund £54m for the four storey building in Sutton, outer London.
The project, due to be completed in 2021, will increase the capacity of the trust's outpatient department in Sutton by 40 per cent while bringing together 320 clinical researchers in one building.
A report from the fundraising committee said as of June, one donor had made a gift of £1.5m to the project and Prince William was a supporter.
Another London specialist FT, Great Ormond Street Hospital for Children, is also looking for a sponsor to buy naming rights for one of its new developments.
The £377m turnover trust is the most successful in the NHS for doing private work, with a target of £118m in private income this financial year.
Like GOSH, the Royal Marsden has seen a significant number of invoices for private work go unpaid. The board papers put this at £57.6m, with 29 per cent of the debt over six months old. The report said "challenges of recovering income from embassy sponsors is driving the aged debt" but added that the Kuwaiti military had now settled half of its bill. The total was not disclosed.
In September, HSJ reported that GOSH owed £30m by international private patients including £1.5m by the Libyan embassy.