Four children potentially exposed to severe harm after spike in 52 week surgery delays
126 patients, mostly children, reviewed for potential harm after waiting for more than a year for treatment
Trust blames delays on lack of capacity and RTT data errors that saw some pathways closed prematurely
Four children were potentially exposed to severe harm after delays in their treatment, as dozens have been on a surgery waiting list for more than a year.
Regulators have intervened at Royal Orthopaedic Hospital Foundation Trust in Birmingham where the number of patients waiting more than 52 weeks nearly trebled to 108 in the three months in May. The surge has since flattened but more than 100 patients have still been waiting more than a year for treatment.
Most patients affected are children awaiting corrective, potentially life saving, surgery for spinal deformities.
ROH has partly blamed the growing waiting list on long standing under commissioning of paediatric spinal deformation services in the region. NHS England commissions the service.
However, trust medical director Andrew Pearson also told HSJ the sudden spike in patients waiting over 52 weeks was specifically the result of correcting data errors. This was part of a broader referral to treatment data problem at the trust, first identified last year.
"It all goes back to poor management of the RTT process," Dr Pearson added.
A paper that went to the Birmingham and Solihull joint commissioning board last week said a harm review committee, which Dr Pearson chairs, had identified 187 spinal deformity child patients whose pathways were incorrectly closed.
The paper also blamed the rise in 52 week waits (see graph) on "RTT data issues" and service disruptions.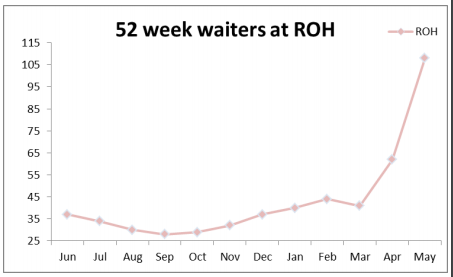 Dr Pearson said the committee, which included representatives from NHS Improvement and NHS England, had now reviewed all 126 patients believed to have waited more than 52 weeks, most of them spinal deformity child patients.
These included patients that had been waiting because of capacity restraints, as well as those whose pathways had been incorrectly closed.
Four children were identified as potentially being exposed to severe harm "due to an excessive delay in surgery" and another child was potentially exposed to moderate harm. The four children have now been treated.
However, because of their deteriorating condition, the children were not able to have the procedure previously planned, potentially worsening their long term prognosis, Dr Pearson said.
None of the four were directly affected by RTT data problems.
ROH's paediatrics spinal deformity service carries out 240 operations a year, with most patients travelling from the wider West Midlands.
Half of its operations are performed at Birmingham Children's Hospital, where there are paediatric intensive care unit beds for more complex cases.
Dr Pearson said there were long standing concerns about capacity of PICU beds across Birmingham, and complex spinal deformity cases were often cancelled when the limited space was filled by unplanned patients.
Earlier this year, the service at the children's hospital shut down for six weeks, after equipment sterilisation problems. Combined with RTT data errors, the closure contributed to a soaring backlog of patients over the summer.
The difficulties come amid wider loss of services at ROH. In July, HSJ reported that the trust was relinquishing all its paediatric inpatient surgeries, amid sustainability concerns. This included all paediatric spinal deformity services.
The paper to the Birmingham and Solihull joint commissioning board suggested Birmingham Women's and Children's FT was likely to run paediatric inpatient surgery for Birmingham patients in future.
However, some patients from further afield could be treated in Sheffield or Stoke, particularly spinal deformity patients who had already waited too long. No final decision on the reconfiguration of services has been made.
In the meantime, Dr Pearson said the spinal service was running double shifts – performing two surgeries a day – to clear the backlog. But in the longer term, more resources are needed.
"Specialist commissioning have not commissioned realistically, because they haven't commissioned for the demand that is there. Hopefully this will mean there will be better provision for these children than there has been in the past," he said.
An NHS Improvement spokesman said: "Children should not be waiting this long for treatment. We have been aware of this issue for some time and have been working closely with the local system to resolve the long waiting times we've seen."
A NHS England spokeswoman said the spinal deformity waiting list was a long standing problem at ROH.
Attempts during the past 18 months, including funding additional capacity, had led to short term improvements but not a sustainable reduction in the waiting list.
A new service reconfiguration involving other providers was now being sought, she said. "NHS England continues to work with ROH to reduce the waiting list while the long term solution is developed," she added.
Birmingham and Solihull commissioners were approached for comment.
The story was amended on 11 September, 2017, to include additional comment from NHS England.
Source
CCG governing body papers; trust board papers; information provided to HSJ; HSJ interviews
Source date
September 2017