Cladding on heart and lung centre fails fire safety tests
Visitors and staff told to park cars away from the building to prevent fire spreading
Patients will not be moved out of the unit after the trust introduced additional fire safety measures
A specialist cardiac centre has become the first NHS inpatient unit to fail fire safety tests carried out in the wake of the Grenfell Tower disaster.
Cladding taken from the Wolverhampton Heart and Lung Centre at New Cross Hospital failed combustibility tests carried out by the Building Research Establishment.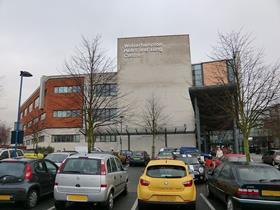 Royal Wolverhampton Trust has decided patients will not be transferred out of the unit after discussions with West Midlands Fire Service and NHS Improvement.
HSJ understands staff and visitors have been instructed to park their cars further away from the centre to prevent fire spreading to the cladding if a vehicle catches fire.
Round the clock fire warden patrols have also been introduced, along with increased security at the centre.
An NHSI spokesman said: "Patient safety continues to be our absolute priority and we'll make sure the NHS is supported to carry out the urgent fire safety checks required."
Teh regulator asked all trusts to carry out urgent fire safety checks last month after the tower block fire in London led to major concerns over the safety of social housing and public buildings.
King's College Hospital Foundation Trust, North Middlesex University Hospital Trust and Sheffield Children's Hospital FT were the first three trusts designated "priority one" to fail combustibility tests.
NHS Improvement confirmed last week Newcastle upon Tyne Hospitals FT and University College London Hospitals FT had also failed tests.
Royal Wolverhampton was one of six organisations designated as priority one for testing last week after supplying additional technical information to NHSI.
The purpose built heart and lung centre, opened in October 2004, provides adult cardiac surgery and thoracic surgery to treat cardiac and lung disease patients across the Black Country.
Cladding from the building was confirmed by BRE examiners as aluminium composite material, which was used in the Grenfell Tower cladding. The cladding was sent for a combustibility test but failed.
West Midlands Fire Service conducted an initial site visit once the BRE results became known, recommending measures the trust had to take. A second visit was undertaken and the fire service is understood to be satisfied with the work underway to remove the fire risk.
Trust chief executive David Loughton confirmed a sample of building material from the centre was aluminium composite material and failed a combustibility test.
He said: "We have since been inspected twice by local fire safety inspectors who have confirmed they are satisfied with the precautions we are taking.
"There are high standards of general fire precautions in the heart and lung centre, well trained staff available 24 hours a day and other security measures in place.
"We are also working with the fire service and NHS Improvement on additional measures, including enhanced fire warden patrols, keeping vehicles at least 6m away from the premises, increased security and staff awareness and a slight amendment to evacuation procedures. These are in line with the updated fire safety guidance issued by NHS Improvement."
NHSI has been liaising with the trust since the results became known.
Source
Information provided to HSJ; trust and NHS Improvement statements