Walton Centre Foundation Trust in Liverpool rated outstanding by the Care Quality Commission
Specialist spinal and brain service hospital becomes only second specialist hospital to receive top rating
Ten out of 19 specialist hospitals have now had inspections published by the CQC
The Walton Centre Foundation Trust has become the second specialist trust to receive an outstanding rating from the Care Quality Commission.
A specialist in brain and spinal services based in Liverpool, The Walton was rated outstanding for the care shown to patients and the effectiveness of its services, and good for safety, being well led and responsiveness. It is one of only nine trusts in England to receive the top overall rating.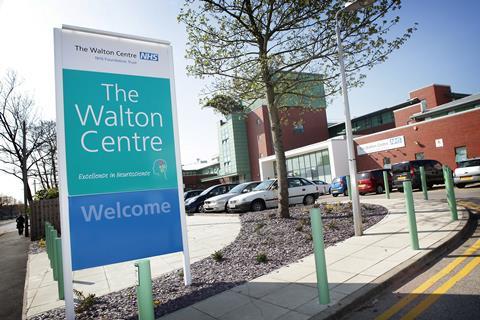 Chief inspector of hospitals Professor Sir Mike Richards praised the trust for the multidisciplinary care it offers. He said: "On admission, patients typically presented with a diverse range of medical, physical, sensory and social needs, requiring specialist multidisciplinary care. Throughout the wards and departments we inspected we found teams worked well across disciplines particularly in critical care and specialised rehabilitation services."
He said the trust was a "centre of excellence delivering state of the art, world class care".
Patient led assessments of the trust's buildings saw it rated as the overall top acute trust in cleanliness and appearance, and maintenance, scoring 99 per cent and 98 per cent respectively.
The trust said the outstanding rating came "without any areas deemed as needing improvement", the CQC's report said it must review risk registers, the equipment available on resuscitation trolleys and an aspect of staff training.
The Walton Centre is the only specialist hospital trust in the UK dedicated to providing comprehensive neurology, neurosurgery, spinal and pain management services. The trust receives patients from Merseyside, Cheshire, Lancashire, Greater Manchester, the Isle of Man and north Wales – a catchment area with a population of 3.5 million.
All 19 specialist hospital trusts in England have now been inspected with nine CQC reports still to be publised by the end of 2016-17. Of the 10 published so far, two were found to require improvement, two were outstanding and the remaining six were rated good.
The other specialist outstanding trust is also based in Liverpool – Liverpool's Heart and Chest Hospital receiving an outstanding rating last month.
Source
CQC report and trust statement
Source date
21 October 2016