Ten contracts worth a total of £190m over three years
Private companies and NHS procurement hubs expected to bid
Concerns raised by Health Care Supply Association have since been allayed
Ten national contracts for the provision of procurement services have been advertised by the Department of Health.
The contracts, worth a total of £190m over three years, are being tendered as part of a large scale transformation of services currently provided by DHL through NHS Supply Chain.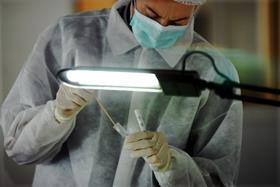 Instead of a single contract, the services have been split into 11 "category towers", with one lot already awarded to Crown Commercial Service.
The current contract ends in October 2018. Private companies and NHS procurement hubs are expected to bid for the contracts.
The Health Care Supply Association, which represents NHS procurement staff, has previously raised concerns over the plan, saying it could lead to "fragmentation" of the procurement system and a focus on competition rather than collaboration.
However, its concerns appear to have been at least partly allayed, as chair Helen Lisle said yesterday: "Since August, the HCSA and NHS procurement profession has benefited from a greater level of communication and open dialogue with the DH around the future operating model and the procurement processes being followed.
"We've had an opportunity to ask questions and have received appropriate answers. There have been a number of working groups/discussion forums formed to ensure the communication links continue, which has been of great benefit to date."
HSJ has spoken to other procurement professionals who remain concerned, but they would only speak on the condition of anonymity. One said dividing and outsourcing the services for three year periods would reduce the level of expertise and experience that can be developed within the procurement teams, which is often key to delivering best value.
There could also be a risk that providers decline to use the new services, although there are likely to be incentives for them to do so. Any performance element within the contracts – linking profits to delivery of savings – is so far unclear.
Although the contracts include provision they have been advertised under "procurement consultancy services". It is thought this is to attract a wider range of bidders, including consultancy firms.
The category towers still to be awarded are:
ward based consumables;
sterile intervention equipment and associated consumables;
infection control and wound care;
orthopaedics, trauma and spine, ophthalmology;
rehabilitation, disable services, woman's health and associated consumables;
cardiovascular, radiology, audiology and pain management;
large diagnostic capital devices including mobile and consumables;
large diagnostic capital devices including mobile and consumables two;
food; and
hotel services.
The procurement notice says each contract will be for an initial 36 month period and may be extended for up to two additional 12 month periods, subject to meeting relevant criteria.
A maximum of three lots will be awarded to any single bidder.
The DH stressed the need to update the current operating model, after Lord Carter's review of NHS productivity suggested there are around £1bn in procurement savings to be made overall for acute hospitals.
A spokesman added: "Through competition, the new model will increase procurement expertise, which will create more savings across the NHS."
The current DHL contract includes some delivery services which are outside the scope of the new contracts, which makes cost comparisons problematic.