A workable business model underpinning a great social model is what the NHS needs to avoid serious failure. By Jan Filochowski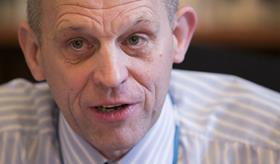 Even though demand increased modestly and predictably over previous years, the NHS experienced its worst crisis in 20 years last winter.
Why? It starved itself of capacity, based on a misguided business model that assumed lack of supply would constrain demand and save money. This business model justified commissioners, as monopoly buyers, in setting marginal prices for emergency admissions that grossly failed to meet costs, yet required all demand be met and standards raised.
National action is urgently needed to replace the current purchasing role with a simpler, more restricted one
Result: insufficient capacity, causing serious additional disruption to already overstretched services and staff, more, longer waits, and extra costs. Emergency care is central to the work of DGHs, and they are central to NHS provision.
So the NHS' workhorses were hit hardest. This won't change easily: the monopolist's ability to pass the parcel is too attractive to give up willingly.
All the signs are that this year things will get much worse. So national action is urgently needed to replace the current purchasing role with a simpler, more restricted one, based on fair pricing and full payment, to ensure sufficient capacity is available, as explained below.
The laissez faire myth
The NHS's social model commands universal support: free, comprehensive and accessible. Unfortunately, the right social model doesn't automatically create a workable business model, nor does having a poor social model stop you having a business model that works.
But healthcare provision can be based on a good social model and on a business model that works (Singapore, Sweden).
Sadly, politicians tend not to realise this distinction. They typically subscribe to one of two myths. Firstly, the laissez faire myth: leave our virtuous social model alone, it will manage itself virtuously. The Lansley reforms exemplify this: hand over control to skilled professionals and all will be well; as did Labour's Frank Dobson: remove the pesky market and all will be sorted.
Policymakers also get this wrong: expecting service design to follow the patient pathway (ie tracing every encounter a patient has while seeking or obtaining treatment, in time order) is laudable but not automatically efficient. It produces a customised approach, which is often expensive, and can be tortuous. Genuine process redesign (good business process) simplifies workflow, eliminating delays and queues, something quite different.
Or take the move to shift care from hospitals. It is frequently advocated as obviously better care and cheaper, when sometimes it is, sometimes it isn't, sometimes liked by patients, sometimes not.
The forced efficiency myth
The alternative interventionist myth is that if it is made efficient enough the NHS can work within the fixed resource policymakers have decided in advance is sufficient. This has been the dominant model for the last 20 years. But it ignores or underestimates the increasing costs and volumes of healthcare and usually tries to impose an operating model that worked in a different context but won't necessarily in this.
Healthcare costs worldwide, and in the UK private sector, rise steadily and consistently at an above inflation rate. If prices don't reflect those costs, even good organisations will fail. That's why we have seen no successful private sector takeovers of NHS hospitals: it doesn't work for them either, as Circle found at Hinchingbrooke.
This approach repeatedly takes extra efficiency as self-evident and there to be extracted and often invests wastefully in random, ad hoc innovation schemes in a scattergun attempt to show the way without assuring itself that way will be soundly based or replicable.
A business model that works
The key to finding a business model that works is to understand the type of business the NHS is: open-ended, highly valued, typically with no alternative, growing naturally but relentlessly – and build the model to match: recognizing and accepting real demand, and responding to that by creating not constraining the physical capacity, services and staff to meet it.
Why? Because without sufficient capacity, high volume complex interrelated services create blockages and waits, becoming progressively inefficient, costing more, providing less.
This way what is needed is done smoothly, without delay, efficiently, with a cost-based but constraining utilities-style price-setting mechanism, determined by an independent regulator. Removing chronic blockages saves money and thereafter costs rise modestly and proportionately – less quickly than the overspend will rise with the status quo.
Those buying NHS services would set out their plans to be priced by that regulator (like the Office for Budget Responsibility) and if they exceeded the money the government was offering they would have to reduce their requirement or persuade government to provide more resources: through taxation or charging.
Unlike the present system, this approach is completely transparent. Buying becomes much simpler, a straightforward planning role and no need for the large infrastructure that is currently NHS England. Rolling this much simpler model out also obviates the need for many of the quangos administering the present set-up.
The NHS is on the brink of major failure with grave consequences and a long recovery. But it needn't be. "Shallow" failure and speedy recovery still remain open if changes are quickly introduced along the lines above, with a workable business model underpinning a great social model.
Jan Filochowski is clinical and professional adviser at the Care Quality Commission; National Institute for Health Research, Commonwealth Fund and Institute for Healthcare Improvement