Greater Manchester, Kent, Essex and north west London to be back office merger "pathfinders"
Their models will be used as blueprints for other STPs
NHS Improvement says back office bill can be cut by £350m over next four years
Four sustainability and transformation plan areas will spearhead system leaders' plans for regional back office mergers across the NHS, which could require significant changes to local governance structures.
The Greater Manchester, Kent and Medway, mid and south Essex, and north west London STPs have been selected to be "pathfinders" for the programme, HSJ has learned.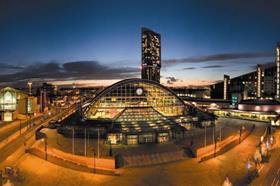 NHS Improvement has said the savings drive could cut the NHS's corporate services bill by £350m over the next four years.
HSJ has been told the pathfinders were chosen because they covered each of the four NHS regions, and were viewed as areas that could make fast progress. The areas will explore different approaches to develop models that can become blueprints for the other 40 STPs during a national implementation phase next year.
NHS Improvement is collecting benchmarking data so every STPs' corporate costs can be ranked as part of the programme, led by NHS Improvement operational productivity executive director Jeremy Marlow.
All four areas set out ambitions in their STP submissions to consolidate back office services. Only mid and south Essex, which is also a success regime area, has included a savings forecast in their publicly available STP document.
The plan said "£10.5m in savings [could be made] from clinical support and back office consolidation". However, it warns that upfront capital funding will be required.
NHS Improvement chief executive Jim Mackey used his speech at the NHS Providers conference this week to underline the importance of cutting back office costs.
He said he wanted to ensure most STPs remained "collective planning forums" and did not morph into entities that actually ran systems. In that context "we need to think about accountability and who is responsible for the money," he said. This indicates the substantial governance changes which may be involved in the backoffice mergers.
He added: "The ability to harness all the back office costs in that area, CCG, CSU costs and corporate back office costs in providers… is absolutely huge."
Mr Mackey also said the Treasury was asking the NHS to reduce back office costs. The Treasury "should rightly say rationalise your overhead because it's enormous, and it is", he said.
Plans for a significant consolidation of back office functions were first outlined by Mr Mackey in June. He said in a letter to chief executives that STPs had a month to submit plans to merge both back office and pathology services with their neighbours.
The letter said: "Back office services in the NHS have not consolidated in the way they have in many other sectors and I know that many STP areas are already developing plans in this area.
"We will therefore be asking all STP leads to develop proposals to consolidate back office and pathology services with outline plans, initially on an STP footprint basis but with a mind to consolidate across larger areas overtime, to be agreed before the end of July."
A NHS Improvement spokesman said: "We want to ensure we're supporting the NHS to deliver corporate services that provide the best value for money and quality of service.
"The four pathfinders identified are being supported by NHS Improvement to develop their local solutions and the learnings will be used to support transformation plans for other areas of the NHS."