Trust leaders given eight working days to submit plans for consolidating back-office, pathology and "unsustainable services"
Bob Alexander letter says review of early STP submissions indicates areas can "go further"
Provider source criticises letter because of "superficiality of what can be achieved" in time given
Trusts and sustainability and transformation plan leaders have been given eight working days to show how they will consolidate back-office and pathology services and put "unsustainable services" on a secure footing.
Bob Alexander, NHS Improvement's deputy chief executive, wrote to trust leaders on Tuesday night to ask them to work with STP colleagues to put together "two page notes" by 31 July for what they plan to do with the services.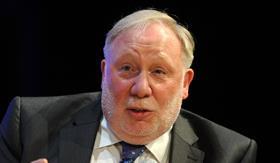 The letter follows an intervention by NHS Improvement chief executive Jim Mackey and chair Ed Smith, who wrote to every trust chief executive last month telling them to develop plans for consolidating back-office and pathology services. Mr Mackey told HSJ last week the regulator would "match-make" trusts that fail to consolidate their back-office services.
They also called on STP patches to identify any unsustainable planned care services that are heavily dependent on locum staff and could potentially be merged or transferred to other providers.
The measures are aimed at getting the provider sector deficit down from a predicted £550m deficit to £250m this year.
Mr Alexander's letter, seen by HSJ, sets out steps for taking forward these actions.
It says: "I would be grateful if you could work with the lead for your [STP] footprint to produce a rapid, high level summary of the opportunities for consolidation and re-provision, so that we can work with each STP area to ensure rapid progress during 2016-17 in starting to improve efficiency and quality."
He asks for STP areas to send "two page notes" for what they plan to do with back-office and pathology services, and for each unsustainable service.
The notes are asked to cover:
current provision;
the ambition;
consolidation or re-provision options, including an outline of anticipated quality, operational and financial benefits;
emerging risks or barriers;
any support requirement from NHS Improvement; and
contact details of the STP lead for each of the service areas.
Mr Alexander said NHS Improvement would help STPs with "local due diligence" of back-office and pathology plans throughout August, to "better understand the opportunity and what is needed to deliver consolidation".
The aim is to develop business cases for change by the end of September, with implementation beginning in October and November.
On unviable services, Mr Alexander said the early review of STP submissions indicated "considerable potential for STP footprints to go further in re-providing services that are not clinically or financially sustainable".
He said providers and commissioners needed to work together on "win-win changes" that would deliver "in-year benefits during 2016-17 and enhanced benefits for ongoing clinical and financial sustainability in future years".
One provider sector source, who wished to remain anonymous, criticised the letter because of the "superficiality of what can be achieved in less than eight working days".