Lord Carter has restated intention to publish rankings to highlight trusts with high levels of waste and inefficiency
Officials expected the rankings to be published earlier this year
Metrics are reliant on the strength of "reference costs" data, for which widespread non-compliance has been found
Expert says there is little prospect of securing reliable data
A league table of trust efficiency that was being designed as part Lord Carter's review is likely to be further delayed after audits of important cost data again found widespread non-compliance by NHS trusts.
The Labour peer, who wrote a major review into NHS productivity earlier this year, recently restated the intention to publish tables that would highlight trusts with high levels of waste and inefficiency.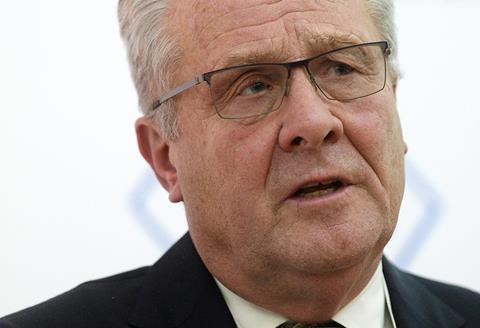 However, these plans are wholly reliant on the strength of the "reference costs" data collection, where trusts state their average unit costs for delivering each service they provide.
A new reference costs collection was published on 15 December but according to an assurance process conducted by PwC, 49 per cent of the 79 trusts audited were found to be non-compliant with the costing guidance.
Although it said most of the non-compliant trusts "did not have significant issues", there appears to have been little progress since the 2014-15 audit, when Capita used a slightly different audit methodology and found 49 per cent of trusts' submissions were "materially inaccurate".
Meanwhile, an expert on NHS pricing has told HSJ there is little prospect of the data improving.
At the NHS Providers conference last month, Lord Carter said there are still plans to publish league tables "at some point, whether it's this year or next year" to enable easy comparisons of trust efficiency.
Plans for an efficiency metric to be adopted across the provider sector were initially set out in his interim report in June 2015, and while a formal timetable was never set out, HSJ understands that officials at the Department of Health had expected the rankings to be ready earlier this year.
A spokesman for NHS Improvement, which is now hosting the team overseeing the Carter agenda, confirmed that the main measure of trust efficiency, known as the "weighted activity unit", is still based purely on reference costs.
Asked if the quality of the data needs to improve significantly before a league table can be published, he said: "Yes, we need trusts to be better at reporting their reference costs so we have a more accurate weighted activity unit."
Andrew Street, professor of health economics at York University, who has previously worked with NHS Improvement to assess national payment tariffs, told HSJ: "NHS providers have never paid much attention to their costs, either in terms of ensuring their accuracy or using the information to decide what to do, and this report won´t change matters."
He also says the data and subsequent cost comparisons were likely to become "progressively less valid over time" as more trusts move to block contracts with their commissioners, as they will be less concerned with securing the correct price for the treatments they provide.
NHS Improvement declined to comment, but its formal response to the audit set out measures to improve the data, including new costing tools and processes to embed costing in day to day financial management.
It is understood that the regulator's work on patient level information and costing systems (PLICS) will continue despite the move towards block contracts, in order for trusts to understand their costs and to have currencies to measure activity. New PLICS standards are set to be published next year.
Meanwhile, Lord Carter's planned "model hospital" tool should be fully developed by April. This will not be published but is aimed at showing trusts the most efficient allocation of resources in particular areas.
This will also use reference costs, though an "iterative approach" will be taken as new data becomes available. Every acute trust now has an assigned individual to check the metrics and provide feedback.
In terms of progress against his overall recommendations, Lord Carter told the conference it has been a "triumph for some people and a disappointment for others".